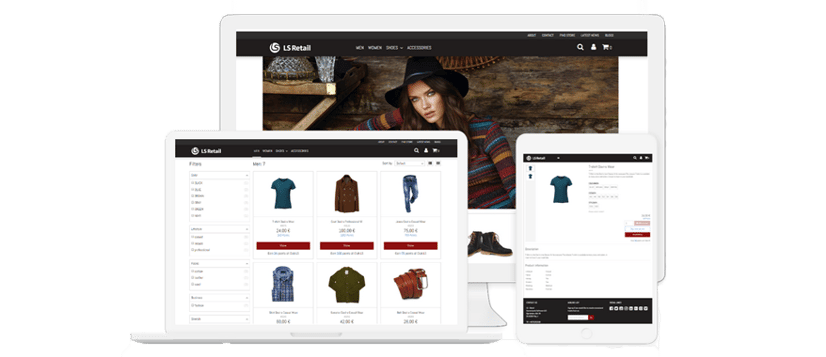 Consumers' growing expectations on what constitutes a high-quality shopping experience have forced retailers to raise the bar. Businesses need more than a shopping cart and a retail POS: they need systems that are tightly integrated, and which enable them to follow the customer journey from beginning to end across channels. The newly released unified commerce solution by LS Retail and Dynamicweb enables retailers to do just that, with minimum effort. "Today, consumers expect retailers to be on all channels, at all times. With Dynamicweb and LS Retail, retailers have a new way to fulfill their customers' demands easily, without having to juggle multiple, disconnected systems," says Petur Sigurdsson, Product Director LS e-Commerce. The LS Retail and Dynamicweb solution consists of a two-way connector that ties together retail management system LS Central (formerly LS Nav) and the Dynamicweb platform combining CMS, e-commerce, PIM and digital marketing. The result is a unified commerce system that can fully supports ambitious retailers, enabling them to sell their products globally and offer customer portals, abandoned cart reminders, content personalization, and much more. "Retailers are looking for robust unified commerce solutions that are fast and easy to implement, so they don't need to reinvent the wheel. LS Retail and Dynamicweb definitely share this vision. With this new solution we aim to set new standards for out-of-the box unified commerce functionality", says Brede Bjerke, VP Sales, Dynamicweb.
A solution for the future
The LS Retail and Dynamicweb solution shortens implementation times while providing long-term benefits. The system can be set up quickly using the pre-built integration and rapid e-commerce implementation methodology. The solution is designed to be highly configurable. For the retailer, this means less coding, more configuration, and overall, more sales. It also includes tools that enable digital marketing professionals to create new product campaigns quickly and effectively. The solution is built on Microsoft technology. It is available in the Microsoft Azure cloud, on premises or as a hybrid cloud solution, depending on user preferences.
Experience true unified commerce first-hand at conneXion Munich
Come to conneXion Munich, the LS Retail international conference and expo, to see the new LS Retail and DynamicWeb solution first-hand. Stop by booth #e1e on April 3-4, and learn how to elevate your retail business with LS Retail and Dynamicweb. Not registered yet? Secure your ticket now.