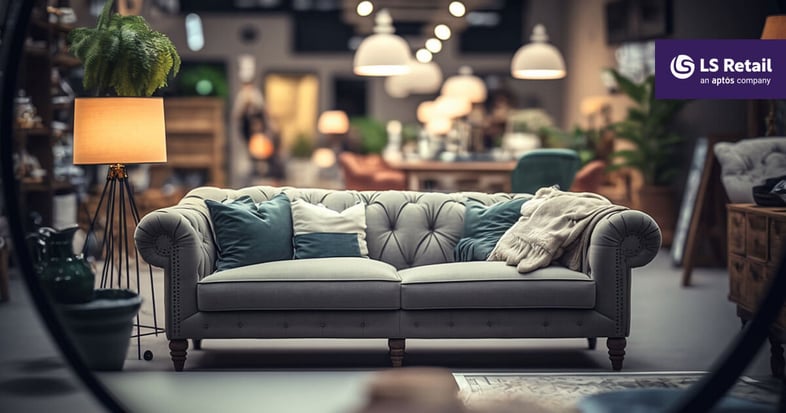 If you own a furniture store, then you know how challenging it can be to compete with online sales. Consumers who are shopping for furniture are increasingly researching their potential purchases online and visiting the store less – in fact, IBISWorld reports that online furniture sales have grown 11.8% per year on average. According to Bill McLoughlin, editor-in-chief of Furniture Today, the average store visit used to be 6.7 times per purchase, but nowadays it's only two. As a result, a showroom that's buzzing with activity during peak shopping times can quickly become a business wasteland.
But your showrooms are essential to your furniture business and not only that, but they also allow customers to make more informed buying decisions. How else can customers find out how comfortable that mattress is, or what it feels like to sit at that dining table? Getting customers to visit your physical stores is key to showing off your products and closing more sales.
Here's our advice on how to entice customers to your store and boost your sales.
1. Interact with customers on social media to build buzz for your brand
According to a recent article from Retail Dive, 90% of consumers say they buy from brands they follow on social media. With a strong social media presence, you can connect with current customers and help potential customers find you. Social media also facilitates communication with customers on a larger scale through reviews, comments, and direct messages.
And while engaging your customers on social media may seem contrary to getting them to visit your stores – think again. By building an online community, you can quickly spread the word about your brand, create a positive brand image, and build more trust with consumers. It creates excitement because not only can new and returning customers easily reach you, but they can also stay up to date on all your products and services without needing to look too hard. For example, when you decide to run a campaign, posting it to social media will likely result in a surge of foot-traffic at your store once the word is out. Nothing like a good sale to draw people in!
You can also try running promotions that are in-store only. Rewarding customers with a gift they can only collect in person if they post photos of the furniture they've bought from you, or if they take a picture of themselves in the visual photobooth you set up in your showroom, can give customers a good incentive to show up at your store (and don't forget to ask them to tag your brand on social media or use relevant hashtags!). Even offering the option to buy online and pick up in store can help you achieve more sales – Invesp reports that 49% of shoppers who use BOPIS are likely to make additional purchases when picking up their items.
2. Use events to give customers a more exclusive experience
Many consumers expect their favorite stores to act as a hub for community rather than just a fulfillment center, and brands are doing everything they can to meet this demand. Holding events at your physical stores can help you create this kind of atmosphere and entice customers to stop by.
Ask local experts or influencers to lead educational workshops or offer helpful tips about things like home décor, interior design, architecture, sustainability, organization, and more. Hold a charity coffee morning or cake sale – or allow a local community group to hold one in-store. Set up a DJ stand and invite local food truck businesses to treat customers with food and entertainment as they shop. You could even host a fashion show for a neighboring clothing store, showcasing their new collection among your own furniture displays. Events like these can be a great way to allow customers to experience the items you sell, whether they're relaxing on a comfortable sofa in front of a beautiful coffee table or having a discussion around a kitchen table.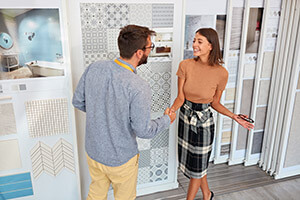 If it makes sense to do so, ask your guests to register for each event. This way you can easily request their feedback and get ideas about future events, as well as send special invites and offers based on their interests. Selecting a store management system that also includes a ticketing and reservation solution can be the key ingredient for planning successful events – and when the reservation part is already in your system, you save the time needed to research and integrate third party solutions. Having your events, inventory and financial management all managed in the same system allows you to clearly see how successful each activity was in helping to boost sales and use that knowledge to plan future projects.
3. Take advantage of storefront displays to showcase something fresh
Your shop window is the perfect medium to create a big, bold and unique statement that brings passers-by into the store. It's your one chance to create a strong impression, catching the eye of anyone walking past your storefront and successfully conveying your brand´s messaging – so much so that they decide to come inside. Research from NPD Group even found that window displays influence purchases 24% of the time on average.
Use your windows as an opportunity to show off some creativity and stimulate the imagination of potential in-store customers. You'll want to create a visually pleasing display that not only makes customers want to stop and look, but also gives them a reason to want to buy from you. Think of it like an exhibit: what do you want passers-by to know about your brand? Any promotions you want to highlight? New products? This is your chance to showcase what sets you apart from the competition.
You should also use choice pieces of furniture and set the scene. It could be a dinner party that suggests sumptuous dishes and good company, a soirée with ambient lighting and luxurious textiles, a child's bedroom with ingenious storage and play solutions – even a scene from a popular film. Put the focus on lifestyle with tantalizing glimpses of the furniture that your customers can envision in their homes. If your windows capture attention, even those who don't walk in might post a photo on social media to tell others about what you're doing and gain more intrigue.
4. Show customers your expertise and become their go-to place for advice
Making sure your customers know that they can rely on you for any questions they have is vital for bringing them back to your stores. You don't want to only answer questions about your products, you also want to give customers valuable advice and share your expertise. After all, they're coming to you instead of someone else, right? Providing this as a service that customers can easily access in-store is one way to see results.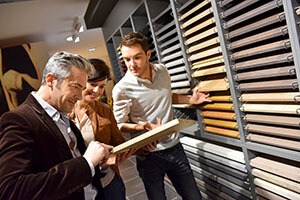 Offer one-to-one demonstrations about wood and fabric care or trouble-shooting stains. Provide personal styling recommendations or design advice. Help customers draft floorplans for their living rooms and kitchens and make sure they select furniture with the right measurements. Give your expert opinion on the materials – should they go for that velvet sofa or the leather one? – and let them know the proper care for certain pieces. You can also invite customers to ask questions on social media and offer them your services if they come to the store. With so much knowledge to share, you'll soon become their go-to place for furniture and excellent customer service.
By engaging with customers and thinking creatively, you can make your furniture stores into hubs of activity that increase footfall and boost sales. Just set specific goals and timeframes for your ideas, so you can understand what works best and set yourself up for future success.
5. Implement technologies that will help customers get a clearer picture of your products
Investing in innovative technologies that can boost the shopping experience for your customers can make a huge difference. Consumer behaviors have changed – they're demanding more from brands and one of the things they expect is convenience. According to one report, 37% of consumers prefer technology to be a part of their in-store shopping experience.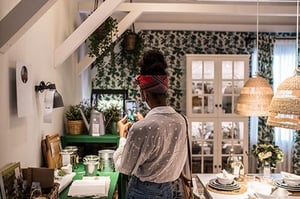 Equipping your floor staff with mobile phones or tablets to quickly look up a product for a customer, offering self-checkout or scan and go solutions for smaller items – or even going so far as to introduce Augmented Reality (AR) so your customers can try out certain pieces of furniture in different room arrangements/styles – are just some of the ways to merge technology with in-store shopping. The easier you make things for your customers, and the more information you provide them with, the more you'll influence their buying decisions.
If you're looking to implement these kinds of technology, consider a software solution that will enable you to collect and analyze valuable data about your customers' shopping habits, including what items are bought most frequently, what items are bought the less frequently, which days or times of the week your customers shop the most, etc. With this information, you can better understand what your customers are looking for and take data-driven actions that will help improve your offering and boost sales. The ideal software solution will also unify operations across your entire chain, so you can keep a clear overview of your business, no matter how your customers shop, from one central database.
Want to take your furniture store to the next level? We can help. Contact our experts.