Gaining clarity on Microsoft Dynamics 365 and NAV: reporting from Directions EMEA 2017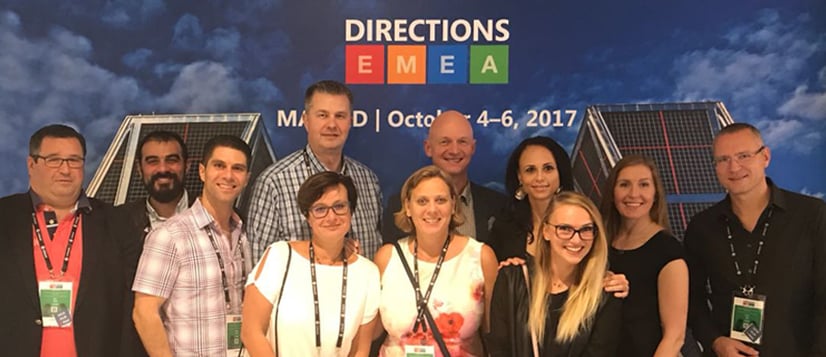 Our team has just returned from Directions EMEA, the independent conference organized by Microsoft Dynamics partners for partners. On October 4-6, Directions EMEA 2017 brought together in Madrid more than 2100 developers, experts, sales representatives and executives from over 60 countries. Thirteen members of the LS Retail team attended the event, listening to sessions, holding meetings with partners from all over the EMEA region, and sharing best practices. Here are some of their thoughts about the event.
The two new lives of Dynamics NAV
This was probably one of the hottest conferences I have ever attended in Europe! High temperatures and high spirits too, at least by the end of the conference. First, I want to thank the Directions EMEA team - despite some hiccups, everything worked out in the end. I also wish to thank Marko Perisic, General Manager Microsoft Dynamics 365, Kurt Juyvins, Senior Product Marketing Manager at Microsoft, Lotte Cordt Ihlemann, Senior Marketing Manager at Microsoft, and the whole Microsoft team for the clarity of the messaging around Dynamics NAV and Dynamics 365. All attendees went home with a clear-cut, powerful image: going forward, NAV will be stronger than ever. Dynamics NAV will continue to live with full functionality, and will be delivered in two versions:
Dynamics NAV 2018, released in December 2017, will be the latest "traditional" Dynamics NAV version.
Dynamics 365 "Tenerife" is a next-generation solution, the successor to both Dynamics NAV and Dynamics 365 for Finance and Operations, Business Edition. Tenerife will offer the possibility of deployments on-premises and in the cloud.
With regard to functionality, the borders between Dynamics 365 "Tenerife" and Office 365 will become more fluid, and the seamless integrations to the Microsoft ecosystem of solutions (think PowerApps, Microsoft Flow, Power BI, Cortana, and more) will open up a wholly new way of working for many of us. We are already waiting in eager anticipation for the release in Spring 2018, when we will finally see the temporarily-named Tenerife, and will discover the final name of the solution! Eloise Freygang, Chief Marketing Officer
A Business Solution second to none
We have just returned from a valuable conference that gave us an overall strong message from Microsoft, starting from the first keynote, which announced full support for Dynamics NAV moving forward. The announcement of the two upcoming releases – Dynamics NAV 2018 and "Tenerife" – complete with a clear timeline set the tone for a positive and constructive conference. The Q&A sessions with General Manager Marko Perisic were very well attended, and attracted numerous questions. The message is clear: the channel is committed to, and almost "religious" towards, Dynamics NAV. Until "Tenerife" becomes fully available, it will be of critical importance to maintain active sales. Our competitors are not laying low: they see this as an opportunity to take over part of our business, and are spreading false rumors, for example that Microsoft is discontinuing NAV. How to counteract these unsupported claims? Here are some facts on Dynamics NAV to shout in sales scenarios:
With over 120,000 customers, NAV has the largest single customer base worldwide for mid-market ERP.
NAV can boast a large community of Independent Software Vendors (ISV) with thousands of certified solutions.
There are over 3,500 partners worldwide with deep Dynamics NAV knowledge.
More than 40 localized versions are available.
NAV can be implemented with local support in over 100 countries.
It can be deployed on-premises or in the cloud.
Upgrade to Dynamics 365 "Tenerife" will be easy and quick.
All in all, I think Microsoft is presenting an almost unbeatable offering. Considering the way NAV can integrate into the full-blown Microsoft ecosystem (from Office, to Flow, to Power BI, just to mention a few), I believe that the new NAV will be a business solution second to none. Gunnar Ingimundarson, Chief Consulting Officer
Delving into data protection
This was my first Directions EMEA. Before attending in person, I believed Directions to be a Microsoft conference. Imagine my surprise when I discovered, once there, that Microsoft is just one of the companies attending! The conference was impressive, with over 2,100 participants, more than 50 companies sponsoring the event, and some more media partners. The sessions were well organized and interesting, but the crowds were perhaps more than the organizers expected – many of the sessions on the first day attracted such a high number of people that many had to be left out of the doors due to lack of space! Even though this wasn't an official Microsoft conference, Microsoft did play a big part, as Diamond sponsor and as responsible party for much of the two keynote sessions, as well as for many of the other sessions and workshops. I attended two interesting and informative sessions by very knowledgeable Microsoft employees on General Data Protection Regulation (GDPR), a new EU legislation that will come into effect on May 25, 2018. This legislation affects all companies with operations across Europe, and it will be valid in just 7 months! Working in presales, I have received many questions regarding whether LS Nav is going to fulfill these new laws. This is an important project we are currently actively working on – as we always are, when it comes to keeping up with new requirements, laws and demands. The GDPR law has to do with being able to keep customers anonymous in your ERP system - but not only. The legislation also covers data protection as regards customers, loyalty members, vendors, users, staff, emails, and much more. Processes regarding personal data will have to be fully documented, and any company within the EU has to be ready for an audit at any time, to show what has been done to properly manage personal information. If a company violates the law, the fines are hefty: we are talking about 20 million euro, or 4% of the global annual turnover – whichever one is the highest. You definitely don't want to be caught unprepared! Microsoft is actively working to make sure that all Microsoft products that are deployed in the cloud (including Dynamics 365, Office 365 and CRM), as well as all product versions that will still be supported on May 25, 2018, will fulfill the law completely, and they are ready to assist their partners in this process. This means that you will be provided with support to fulfil the regulation if you run any version of NAV between Dynamics NAV 2013 and NAV 2018. Be aware that NAV 2009 is going to be discontinued in January 2018, and will therefore not receive support to fulfil the new law. Aslaug Gudjonsdottir, Product Specialist [hubspot id="1"]