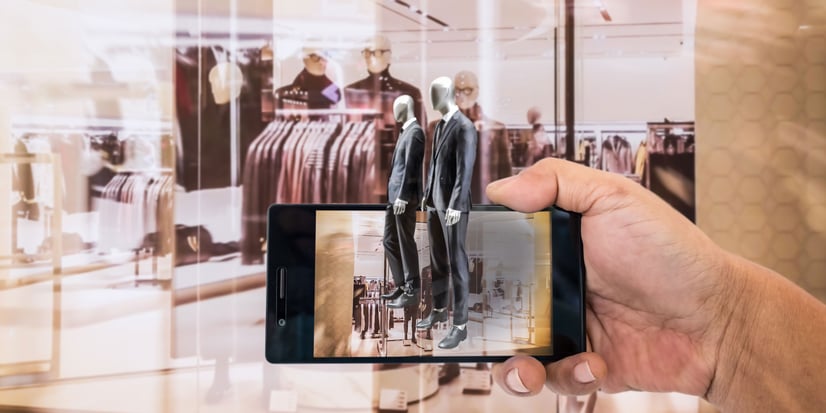 Bricks-and-mortar is far from dead – at least, good retail isn't. Give shoppers an amazing experience that you can't replicate online – something that will capture their attention and wallet share, something they'll want to tell their friends and family about and share on social media – and they will come back time and again.
This has been the direction that all retail started gravitating towards in the past few years. But as the coronavirus pandemic has demonstrated, the world can change quickly.
Widespread store closures and social distancing measures have put physical experiences on hold. Some believe shopping may never be the same again.
"While some customer habits will return to normal, others have changed forever," said Marks and Spencer's boss Steve Rowe to the BBC.
Indeed, while trends such as experiential retail, sustainability and shared services have been some of the most dynamic and fast-growing aspects of the industry, this positive momentum has temporarily stalled. Consumers – locked down in their homes around the world – have reverted to buying goods over experiences, choosing new products over second hand, and prioritizing health and safety (including heavily plastic-packaged goods) over environmental concerns. It is pushing retailers to rethink their long-term strategies, not only to overcome the pressures of temporary bricks-and-mortar store closures but adapt to new consumer buying habits – limiting social gatherings, avoiding fitting rooms and touching fewer products, for example.
Retail, for now, has changed, and brands are hurrying to adapt. Here is an insight into how they've been affected and what they are doing to future-proof their businesses and keep the latest trends alive:
Events and experiences: from in-store to virtual
Brands have made big bets on the future of experiential retail, opening exciting new stores that prioritize experiences over products. In February 2020, US furniture company Burrow opened a 2,200-square-foot flagship store in New York where it planned to host all sorts of exciting in-store events, such as live podcasts and business panels. Only a few weeks later, the brand was forced to temporarily close its doors. So the company took a different tactic, and switched to bringing the in-store furniture buying experience online. Its staff are now on hand to answer all manner of furniture queries online and over the phone. The brand celebrated its third birthday with a virtual variety show on Instagram. Once a week, they host an Instagram Live session featuring interviews with special guests.
In LA, fashion brand RTH is upping its online service too. It now offers FaceTime appointments, and provides updates to customers about what's available in-store. Its previously limited e-commerce offering is also being expanded as the business makes more inventory available to customers.
Camp NYC, which calls itself a family experience store, needed to find a new way of delivering in-store birthday parties and ticketed arts-and-crafts events, which are core to the company's strategy. When its stores closed in mid-March, it launched free virtual group birthday parties for kids on its website. Customers can pay to upgrade if they want a private, customized party.
Of course, no matter how many virtual events are made available to consumers, nothing can really beat real, physical, visceral experiences. Even the retailers doing it best aren't necessarily trying to replace real-life events, but simply adapting them to suit digital channels.
As stores open again, we can expect to see different experiences emerge. Beauty and skincare retailer L'Occitane, which usually offers hand massages and mini-spa treatments in its stores, began inviting shoppers to come in and wash their hands at any time using the store sinks and complimentary soaps. And it's likely that consumers will continue to shop more locally to avoid large crowds and commutes on public transport. In the coming months, brands may need to get stuck in with local fairs and festivals if they want to stay relevant and accessible to consumers.
Sustainability: temporarily on hold
In recent years, this has been one of the top trends for consumers and businesses alike. With retailers now battling to stay in business and provide higher standards of hygiene, will sustainability fall off their radar? Take supermarkets – big brands like Tesco and Walmart have all pledged to significantly reduce the amount of plastic packaging used in grocery products, but many have quickly reverted to single-use bags for online grocery deliveries and single-packed vegetables in the name of health and safety.
Consumer habits have quickly shifted, too. Shortly before Covid-19 hit, a study by GlobalData found that almost three-quarters of UK consumers said they would rather shop with a retailer offering loose fruit and vegetables. But with health now a top priority, sales of hand sanitizers, single-use gloves and liquid soap in plastic bottles have skyrocketed, with little regard for plastic-free alternatives or refills. Similarly, many consumers found themselves sacrificing their values and stocking up on items packaged in plastic as they faced being confined to their homes for long periods.
Indeed, Global Data believes that sustainability and reduced plastic use will be less important to many consumers in the short term. But that doesn't mean it will be forgotten altogether. Customers, employees and investors will still expect it from brands. And increasingly, regulators will mandate it. The World Economic Forum believes the environmental cause will return to the foreground when the Covid-19 crisis has passed. Indeed, the WEF's initiative "The Great Reset" aims to create more sustainable business models post-crisis, with the goal of reducing risk and waste, and increasing justice and resilience.
Retailers are also taking the lead. For example, Kurt Geiger has been donating clothing to health and medical workers – allowing it to get rid of surplus stock, reducing waste while generating positive press.
The sharing economy and rental services
Enforced lockdowns and closed borders have put many sharing services on hold. Even as life goes back to the new normal, with self-isolation and social distancing, staying in an Airbnb property, sharing a ride, and leasing a co-working office space may not be most people's first choice. Will this industry survive?
News that popular clothing rental brand Rent the Runway laid off its entire retail staff is a worrying sign. Feeling the brunt of the coronavirus crisis, the company was forced to close its bricks-and-mortar locations, while at the same time more of its customers paused or cancelled their clothing subscriptions. Who needs a regular wardrobe overhaul when you're working from home? And who dares to rent a dress someone else used before?
Suddenly ownership seems more appealing, as it gives complete control over cleanliness, condition and availability. The sharing economy, which relied on people's easygoing ethos, now seems careless to many.
But experts believe the sharing economy will thrive again, especially in local communities where the industry is likely to go back to its roots and focus on community cooperation and peer-to-peer trust.
"The pandemic has activated the reset button that can bring balance to some of the excesses that developed in the sharing economy during the last years of boom and can benefit the sector in the long term," said Dr Oksana Gerwe, a lecturer in International Marketing and Business at Brunel University London in her blog post 'The sharing economy: One more casualty of coronavirus?'. "Using the lessons from the pandemic, platforms and individual suppliers of sharing services are likely to improve their health and safety standards, making the sector more sustainable for all."
Adapt and survive
While for now the future seems uncertain, retailers will adapt, as they have always done, to new consumer demands and behaviors. Research firm McKinsey says that the coronavirus crisis has been a catalyst for retailers to develop and execute an online and omni-channel strategy. It recommends that retailers begin to allocate a greater share of investment to the online channel and step up their personalization efforts in digital marketing. After all, consumers are accustomed to a high standard of service in stores and so the new emphasis should be on creating a personalized digital experience of the same quality.
Joe Pine, co-author of The Experience Economy, gives further hope. He believes that the physical experiences that have been closed down temporarily will quickly draw in the crowds in future.
"We are social beings and we crave social environments," Pine said to Forbes. "While the experience economy might be a new thing, the desire for experiences is from time immemorial." He added that retailers can learn from his and improve their ability to provide interactions and experiences online, and become better prepared for future crises.
As UK retail guru Mary Portas succinctly puts it: "Great retail was always about innovation, creativity and knowing what people want. Post-lockdown that will be more important than ever."