Dynamics 365 Business Central goes fully cloud: reporting from Directions4Partners 2020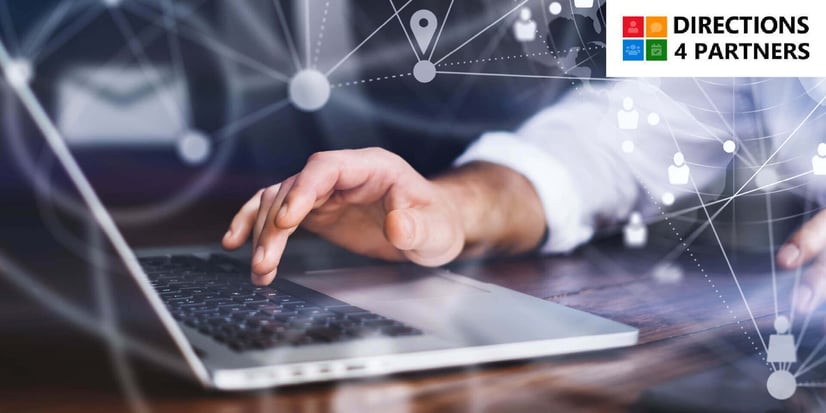 The cloud is the future. If you are a Microsoft Dynamics 365 Business Central partner and want a future for your business, consider moving to the cloud now. This is the key message from Directions4Partners Virtual 2020, this year's online version of Directions, the independent conference of the Microsoft Dynamics 365 Business Central partner community.

"Having over 2700 Microsoft Dynamics 365 Business Central partners attend a virtual conference just shows the strength of our channel. Although it was a different experience than in person, you couldn't help but feel the strong momentum of Business Central SaaS."
Eloise Freygang, Chief Marketing Officer, LS Retail
It's all about the cloud
"There is no reason to be selling customers the on-premises version of Business Central. Every new customer should be in the cloud," said Cecilia Flombaum, Sr. Director Business Strategy for Dynamics 365 at Microsoft.
Many businesses have already realized it.
Business Central SaaS is growing 250% year on year. Triple digit growth is uncommon for a well-established product.
Over 10,000 businesses worldwide run on Business Central SaaS. They were just 4,000

one year ago.

Over 2,200 partners are selling Business Central SaaS. They were 1,400 just one year ago.
Business Central is now available in 45 countries globally, with more geographies being added.
There are over 1,000 apps available on AppSource to extend Business Central. This is the highest number of AppSource apps for any product within Microsoft, said Mike Morton, General Manager of the Microsoft 365 Dynamics Business Central team.
With these kind of numbers, it's unsurprising to hear that Microsoft has heavy investments planned for Business Central.
Business Central used to be seen as an ERP for mid-sized businesses. Today, it's attracting bigger companies, too. Mike Morton described how businesses are moving to Business Central SaaS from ERPs like Dynamics GP, AX, and SL, and experiencing high efficiency and productivity.
"Whatever your size and requirements, there is a chance there is a customer like you already on Business Central, who is operating well with their scale and requirements."
Mike Morton, General Manager, Microsoft 365 Dynamics Business Central
Business Central SaaS expands, driven by partner feedback
Microsoft has been working on optimizing the basics: performance, debugging, security, scalability and compliance in Business Central SaaS.
"It's great to see how much work and investment have been put into improving performance, debugging, and security. These are the heart and soul of any SaaS solution, and Microsoft is taking them very seriously, making Business Central a very solid and reliable business platform," says Peter Vach, Partner Experience Manager at LS Retail.
Heightened security
Business Central now meets even more industry security and privacy compliance standards. A wizard helps businesses monitor changes to specific fields (for example bank account numbers, or the email field in customer cards), with the possibility to get automatic alerts in case of changes.
Better administration tools
Partners can now use a troubleshooting guide based on telemetry to troubleshoot customer scenarios, spot possible process problems and mitigate without having to submit a support ticket.
A new performance toolkit to compare performance between different builds helps partners ensure that changes in code won't degrade performance for customers.
With the capacity overview, businesses can check usage of space in the cloud, and optimize it changing retention periods for data.
Integrated experience across the different Microsoft apps
The Microsoft ecosystem is becoming truly integrated, with Microsoft Teams, Power Platform, Common Data Service (CDS), Office and Business Central all working harmoniously together. At Directions, we saw:
Simpler, more professional emailing within Business Central, with the possibility to set up email scenarios (for example, all sales invoices should be sent from a shared "sales" mailbox). - Improved link sharing from Business Central to Teams (with the links automatically showing a neat preview of the content to speed up collaboration).
The possibility to use Power Apps inside Teams, working with real-time data, and even building low/no code canvas apps right within Teams.
Ability to connect Business Central through virtual entities in CDS to other Dynamics 365 products that reside on CDS.
Growing with partner feedback
Business Central is increasingly shaped by partners' contributions. In the Ideas Portal, the community can send its contributions and vote on ideas. "Every Monday morning we start the team meeting by looking at the top ideas in the Portal, and then we decide which ones we'll prioritize," said Jannik Bausager, Principal Group Program Manager at Microsoft.
47 ideas sent to the Portal have already been delivered in the 2020 release wave 2.
Partners are also invited to contribute to the Business Central base app on GitHub with improvement to modules, features enhancements, or even fully new modules.
"Microsoft's ability to seamlessly connect Business Central SaaS with Office, CRM, Teams, gives it a tremendous advantage over other ERPs. The way the Teams chat and Business Central work together is especially impressive, and will make collaboration so much easier. When you add simplified connectivity to peripherals in SaaS, like the announced universal printing, you get an offering that can't be beaten by any competitor in the retail technology space."
Katja Ocvirk, Regional Sales Manager Europe, LS Retail
A 2021 roadmap for Business Central
The Microsoft team is working on 5 key investment areas:
1. Improving compliance to local data regulations with GoLocal
Data management and monitoring according to country regulations can prevent companies from moving to the cloud. GoLocal is a framework to insure that all data management meets local standards and regulations. It will initially be launched in Germany, with plans to expand it to other countries.
2. Universal printing
Forget about complex hybrid setups, drivers to install or printers to manage. In the future, Morton promised, "it will be easier to print from Business Central SaaS than it ever was on-premises." This is part of a Microsoft-wide effort to make printing easy, with clear user access, in the cloud.
3. Report extensibility
Report extensibility will be the focus of wave 1 2021. With this effort, which has been massively demanded by partners, Microsoft aims to close one of the last big gaps in the current extensibility story.
4. Further investments in Microsoft Teams
You'll soon be able to look up Business Central data – items, orders, etc. – directly from within Teams. This will save users a considerable time, speeding up work and collaboration.
5. Easier and simpler customer onboarding
The new Business Central onboarding framework will enable customers to walk through the basics and get started on their own, leaving partners free to use their time and expertise on more high-value work. By having to spend less time hand-holding each customer, partners can increase the volume of business while maintaining the same resources. The new onboarding process will also help small customers move to Business Central, as they won't need to factor in expensive consulting hours to set up the software.
Great opportunities for Microsoft partners
The crisis has not hit the Dynamics 365 environment. For Microsoft partners, this is a golden moment.
There are opportunities in the SMB market.
With 78 million SMB organizations worldwide, the SaaS market opportunity is around $17 billion, said Neha Bajwa, Sr. Director Business Application Marketing group at Microsoft. If you don't move these businesses to the cloud, someone else will.
There are opportunities when you partner up.
The Dynamics and Power Platform partner ecosystems keep on growing, giving you more opportunities to partner up. Working in a partner-to-partner model you can increase reach and make your offering more attractive to your customers. The constant growth of the LS Retail partner network is a prime example that the partner-to-partner model works. Would you like to become an LS Retail partner? Discover how to apply.
There are opportunities within Dynamics.
Dynamics 365 has been growing 47% year over year versus a market average of 17%. Why are so many businesses joining the Dynamics 365 community? Neha Bajwa gave two compelling reasons:
Independent software vendors (ISV) building on Dynamics 365 are seeing 90% return on investment (ROI).
The average growth margin by year 3 is 51%.
There are opportunities for partners who verticalize.
When you are just reselling software, you have no differentiator from your competition. To succeed, and see revenue, you should verticalize. The real opportunities, Bajwa underlined, lie in building solutions that fulfil very specific requirements, taking a particular industry to the last mile.
There are opportunities in the cloud.
Many partners are openly unhappy with the SaaS model. They hope that it's just a temporary fluke, and that they can still make a living with some good old license deals.
These partners probably won't be around in three years' time.
"The cloud is here to stay. Customers want it, the competition is delivering it, so you need to set new goals and start moving, now," said Johan Adenmark, CEO at NAB Solutions.
Customers want the SaaS version of Business Central. It's always up to date, no work needed, and it's guaranteed by Microsoft. They can get started on a low budget, and expand when they see it works.
SaaS is an opportunity for partners, too. It guarantees recurring revenue – perhaps a smaller one, but it can grow with scale, and by adding extra services. Going SaaS also simplifies competence maintenance in your company. Just imagine how easy it will be to deliver consulting services when all your customers run the latest version!
"The cloud does not change what customers need, it just changes the way we address their needs. We must accept SaaS as a deployment option, and move to discussing how to optimize and streamline customer processes to create the most value of a cloud deployment."
Lucia Muench, Business Developer, LS Retail
Go SaaS or go home
From today, as a Business Central partner, these should be your priorities:
Land cloud customers. All your new customers that fit the cloud model should go SaaS.
Migrate existing on-prem customers to the cloud. Start with smaller ones, and learn along the way.
Build repeatability with best practices and migration tools. Decrease the cost of customer acquisition. In the cloud volume matters, so you need to close deals and deliver value fast.
Upsell to current customers. Develop extra offers and services, and encourage current customers to expand their usage.
Accelerate customer acquisition. Deliver consistent success, so you can grow on customer references and on returning customers.
Stop thinking about licenses, customizations and upgrade projects. They are a thing of the past.
The market has changed. The cloud is the evergreen train that will take you speeding to tomorrow, keeping your customers up to date and keeping your business evergreen, too.
Board the train now, or risk missing your chance to board it at all.