Dynamics 365 Business Central gains momentum: reporting from Directions EMEA 2019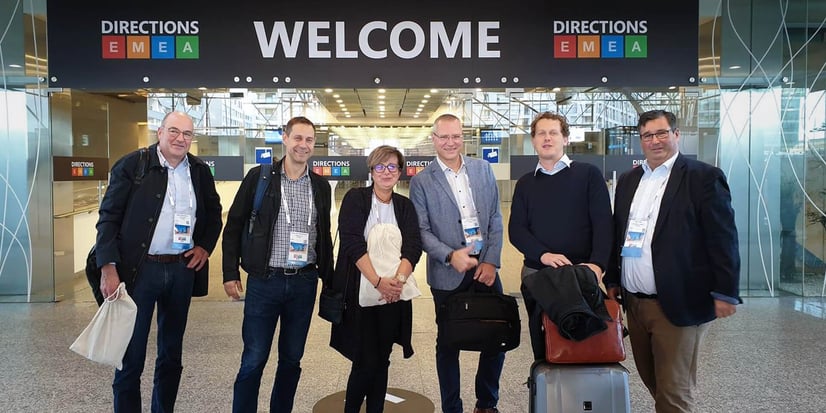 Microsoft Dynamics 365 is now a billion dollar business platform, growing 45% year over year, and Microsoft Dynamics 365 Business Central, the ERP platform LS Central is built on, largely contributes to this positive trend. The partner ecosystem selling Business Central in the cloud is growing rapidly, and already counts over 1,400 partners. Demand for the solution is rising even faster, resulting in a 200% year-on-year revenue growth per partner globally – with an astounding 400% growth in the EMEA region. Today, over 4,000 companies run on Business Central in the cloud. Expect these numbers to be bigger tomorrow.
These are just few of the positive metrics Microsoft General Manager Toby Bowers revealed last week at Directions EMEA 2019.
A partner event for partners
Directions EMEA (from 2020, to be known as "Directions 4 Partners") is the yearly independent conference organized by, and for, the Microsoft Dynamics 365 Business Central partner community, featuring a rich expo, and keynotes and sessions from Microsoft partners and employees. In 2019, the conference took place in Vienna, Austria, on October 9-11. We were there, sponsoring and attending the event, alongside other 2,500 developers, experts, sales representatives and executives from all parts of Europe, Middle East and Africa.
Entering a new vertical with LS Central for hotels
Over the course of three days, we had numerous constructive discussions on local and global challenges and opportunities with both current and prospective partners. Verticalization (specializing in one industry segment) was, once more, one of the key topics of the conference. Speakers from all regions and industries underlined how a strong vertical focus remains one of the key strategies for success. As an Independent Software Vendor specialized in vertical solutions, we saw a marked interest in our unified commerce software in the channel. "Many partners approached us to discuss our new software solution for hotels and resorts, LS Central for hotels. We have received very positive feedback on how it differentiates from other solutions in the market, and we are already looking into numerous opportunities," said Kristjan Johannsson, Chief Business Development Officer at LS Retail.
What's new in Business Central
Business Central is strengthening its foothold. Mike Ehrenberg, CTO Microsoft Business Solutions and Microsoft Dynamics 365, noted that the solution is growing beyond sales numbers and vendor ecosystem. Business Central is available across more geographies, with further countries in the pipeline. The solution is also connected to an increasing number of solutions across the broader Microsoft portfolio. This represents an opportunity for partners, who can expand their portfolio, as well as for customers, who can take advantage of more integrated functionality.
With the Business Central 2019 release wave 2, some long-awaited functionality will be released between October 2019 and March 2020. The upcoming updates include:
Easy, quick creation of new user roles. Users can customize actions on the Role Center home page with simple drag-and-drop motions and bookmarking. The new setup requires simple configuration, and no coding.
Quicker update of information. When users are working on multiple windows, changing data in one window will result in an automatic update across all windows that are open. This means users can keep working with correct data, without having to reload all pages after making a change.
Keyboard shortcuts to increase work speed.
Tools to help vendors make more engaging, real-life demos.
A cloud migration wizard, enabling businesses to move not just data but also templates, users, and setups to the cloud, fast and painlessly.
When introducing the release, Microsoft underlined its commitment to listening to partner feedback, and pointed out the work done in the past year to deliver functionalities that the channel had been asking for. Carsten Wulff, Vice President Europe at LS Retail, approved the strategy of the Dynamics 365 team. "Microsoft seems to be working hard to deliver on the milestones that had been set in the past couple of years," he said. "Intelligence, the cloud, leaving the Windows client behind for a modern one – this used to feel like a vision. Some partners were unconvinced. Others were scared. But now this vision is coming to life, and thanks to Microsoft's latest actions and long-term strategy, there is renewed confidence in the channel. Once again, we are all working in the same direction," Wulff concludes.
Cloud, the new normal
The transition to the cloud, a key goal for Microsoft, was one of the central themes of the conference. Microsoft has been working to enhance its cloud environment in terms of stability (working on performance and load balancing), performance, security and support (to extend partners' ability to support their customers). This work seems to be paying off, as companies' cloud adoption keeps increasing. In specific, the SMB segment displays the highest cloud adoption rate, said Cecilia Flombaum, Partner Ecosystem Lead for Microsoft Business Applications, underlining that there are great opportunities for partners who are working in this fast-moving ecosystem.
Attendees, who came from all parts of Europe, Middle East and Africa, painted a slightly different picture. Businesses appear to be interested in the cloud, but there are still some challenges to overcome. Some of the vendors shared Microsoft's optimism. They said more and more customers are enthusiastic at the idea of the cloud, because it means simple updates, no time or money wasted in installations, and no hardware costs or high upfront fees. Some of these companies are seeing such active interest that they are onboarding new cloud customers every week. Other vendors described their customers as mostly interested in the cloud, but wary. In regions (or business sectors) with low cloud adoption, customers worry about being the first, are concerned about the risks of data corruption, and fear possible performance issues. Other vendors described a different situation altogether: they have many customers who are interested, and ready – but the cloud version of Business Central is not yet available in their countries. And of course, many customers still choose to remain on-prem.
As challenges remain on the customer's side, the new cloud-based world requires vendors to adapt, too. To develop and sell solutions and services in the cloud, technology companies must be ready to adopt a new mentality, change business processes, increase speed of execution. They must market their solutions differently, develop new models to deliver service, and be quick on their feet. They need to find new ways to define and measure success, and adjust to revenue streams that look very different from the past. "The transition from up-front licensing to a SaaS model may prove challenging for many partners. Their cash flow will suffer, at least at the beginning. However, this is a positive change: I believe it will bring us great benefits in the long run," says Gunnar Ingimundarson, Chief Consulting Officer at LS Retail.
The third way
In the cloud debate, we often come across polarized view: either you are in the cloud, or you aren't.
We disagree.
For the past few years, the LS Retail team has been working on building a third way, the so-called hybrid cloud model. Our customers can choose how, and to what extent, they want to leverage the cloud, and what they'd rather keep offline. We believe that the hybrid model can be the key to competitiveness and success for retailers, as they can be agile while also staying resilient.
We are not the only ones who believe in this strategy.
"The offline capabilities of LS Central are a strong differentiator in the market," Kurt Juyvins, Principal Program Manager at Microsoft, told us at Directions. "Having the POS offline, with the rest of the data in the cloud, connected to cloud services and AI, gives retailers an opportunity beyond what the competition can offer," he added.
As we keep on working to increase our customers' flexibility, our delivery plans also rely on Microsoft's schedule. "For us to stay on track with our roadmap, it is essential that the next version of Business Central on SaaS also includes the opportunity to run offline devices in a SaaS setup," Carsten Wulff notes.
In the meanwhile, our long-standing collaboration with Microsoft continues on multiple fronts. We are working together on the development of our solution. With our joint Unified Commerce Cloud Tour, we are promoting the benefits of Business Central in the cloud and of our unified commerce solutions infused with intelligence across the world.