Discover unified commerce software at EuroShop with LS Retail and our partners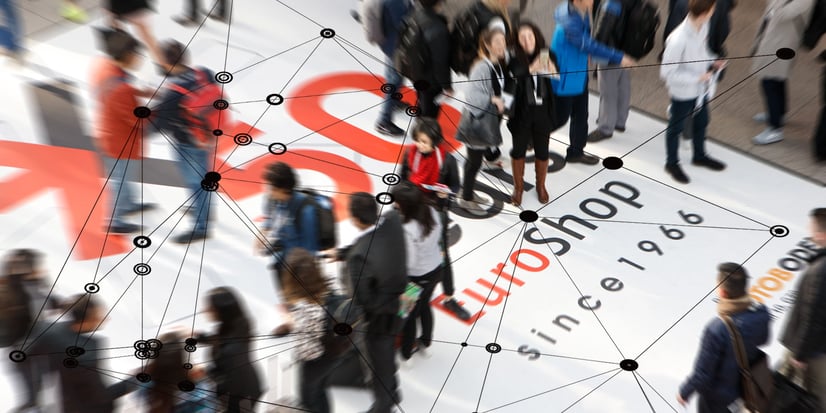 EuroShop 2020, the largest retail trade fair in the world, will take place in Düsseldorf, Germany, on February 16-20, 2020. More than 115,000 trade visitors are expected to visit the expo, which will feature 2,500 exhibitors from 61 countries. We will be present at booth F18 in Hall 6, alongside our partners DRS Deutsche Retail Services, Dynamicweb, HSG Hanse Solution, Jupiter Software Consulting and TSO-DATA. Together, we will demonstrate to attendees how unified commerce can help them solve their most pressing retail challenges.
Let's take a closer look at the tech companies who will join us at the LS Retail booth.
DRS Deutsche Retail Services
DRS Deutsche Retail Services AG is a full-service provider for retailers. Their team of 80 employees has 30 years of experience in the retail industry. They support international companies both in the food and non-food sector with all their IT-related issues.
"We take on complete responsibility for retail systems in conjunction with our service partners, from consulting to implementation, roll-out and ongoing operations," says Uli Schäfer, Managing Director at DRS. "I believe part of our success is due to our 'Deutsche' workmanship and reliability."
Focus on cloud, AI and mobility
Technology is moving fast, but DRS doesn't believe retailers should adopt new tech for the sake of staying ahead. "Research the innovations, analyze your business, and select the technology that will have the highest positive impact on your business processes, or your customer experience," is Schäfer's advice to retailers. Some of the technologies that retailers should consider include:
The cloud. "The cloud can massively increase operational reliability and data protection. This is especially true for small- and medium-sized companies, who traditionally run their IT system in their own server room," Schäfer says.
Artificial Intelligence (AI). Retailers collect more data than ever. "You need to transform the data you collect into insights, and use them to optimize your own organization, improve product availability, and give consumers the items they are looking for," Schäfer advises.
Mobility. Shoppers have no time to waste: they want to be served, buy and pay here, now. "Consumers expect you to meet their needs for information and interaction wherever they are. Mobile will increasingly be used for both communications and service, from self-serve on the customer's own device to smart devices in-store," Schäfer says.
Come ask them about…
Digitization: Traditional retailers who want to move into omni-channel should start by digitizing their processes, making all information in the company available in electronic form.
Fiscalization: In Germany, fiscalization will take center stage this year.
Enhancing the customer experience: To deliver personalized customer experiences, retailers need to integrate all touch points using unified commerce, and then use this unified data to create better experiences.
Dynamicweb
Dynamicweb offers a cloud-based eCommerce platform that supports retailers' omni-channel needs from B2B to B2C, including customer segmentation, abandoned cart reminders and content personalization. Dynamicweb unites eCommerce, customer management (CMS), marketing tools and product information management (PIM) in the same platform, enabling businesses to deliver rich, multi-media product content in multiple languages to marketplaces, dealers and customers.
The Dynamicweb platform can be seamlessly integrated to Dynamics 365 Business Central and LS Central, with real-time communication between the systems.
Simplify your stack and unify your channels
In the battle to gain customer loyalty, the quality of the shopping experience is key, Dynamicweb believes. And to deliver great customer moments, you need the right technology. "Customer experience should be the core focus for retailers. And you can't deliver a great experience when you are juggling three or four separate applications just to view your business and customer data," says Brede Bjerke, Vice President of Sales. "Unified commerce software has become essential technology to provide seamless transactions, both in brick-and-mortar stores and online. Having all your data within a single platform also enables you to get more personal with customers, delivering tailored content and product offerings based on each customer's behaviors and interests," he says.
Bjerke also advises retailers to stay open to consumer trends. "In 2019, we saw the transformation of social media from platforms for pictures and videos to shopping venues," says Bjerke. "Social media shopping is just the beginning. Consumers will keep on looking for convenience – it's up to you to move where they are."
Come ask them about…
The benefits you will gain from simplifying your technology stack, moving to an all-in-one system. Instead of having to run three or four separate systems, with Dynamicweb connected to LS Central you can have a single platform to manage your store sales, inventory, customers, product information, eCommerce and marketing.
HSG Hanse Solution
HSG Hanse Solution GmbH has 15 years of experience in implementing software solutions for planning and retail, as well as ERP solution Microsoft Dynamics 365 Business Central (NAV). The company has been a Microsoft Certified Partner since 2006.
With headquarters in Hamburg and offices in Krefeld and Cologne, Hanse Solution supplies software and high-quality services to businesses in different branches of retail across German-speaking countries.
Move with the consumers
The time of simple checkout processes has passed. "Omni-channel is fundamental to give customers the option to choose the product they need when and as they want it," says Uwe Schaub, CEO. "But that's not all. Consumers move fast, and retailers can't afford to be left behind. From contactless payment methods, to radio-frequency identification (RFID) technology to tag products, to AI-powered product suggestions, retailers need to adopt state-of-the-art technology to keep customers loyal."
Come ask them about…
What technology you need to advance your fashion, furniture, or lifestyle business. Hanse Solution combines long-term experience on the field with deep knowledge of these industries. "We have two decades of experience in supplying and supporting retail Point of Sale technology, and that includes implementations across Europe, Asia and the Americas," says Schaub. "We are also part of a strong network of partners with whom we cooperate daily to reach our ultimate goal: our customers' success."
Jupiter Software Consulting
Founded in 2019 by four IT veterans, Jupiter Software Consulting is a young company with extensive experience in Microsoft Dynamics NAV and Business Central implementations. Operating from Northern Germany, Jupiter Consulting supports businesses in the retail and food manufacturing industries with all their IT needs. Their expertise lies in ERP Dynamics 365 Business Central (NAV) and industry solutions LS Central, Foodware 365, Dundas BI, Dynamicweb and OPplus.
Deliver convenience and attention
Consumers demand easy and convenient ways to shop, personal attention and engagement. It's up to the retailers to deliver that. "The focus is shifting from pure transactions to service. The POS is not just a tool to ring up transactions anymore: it's an enabler for interactions. This year, I expect to see more retailers implementing mobile POS devices, as these can be used to deliver product information and personal service to customers everywhere in the store," says Clemens Hoffstätter, Head of Sales and Administration. "At the same time, convenience matters: technology like self-service POS, which enable consumers to take matters into their hands, and flexible payments will also become more popular."
Consumer preferences are continuously shifting, and to stay ahead, agility is key. "Stay curious, keep rethinking you concept, and adapt quickly," Hoffstätter advises retailers.
Come ask them about…
How Jupiter Software Consulting can support your business with your IT needs. "We offer professional consulting, process optimization and support services," says Hoffstätter. "Come discuss your business challenges with us. We'll be happy to help you find functional, cost-effective solutions to your problems."
TSO-DATA
TSO-DATA GmbH is a Microsoft partner and LS Central Platinum Partner specialized in IT solutions and services for mid-sized retail companies. They offer full IT service, managing projects from first analysis through process optimization and implementation, introduction, training, and support. They are experts in implementing ERP Microsoft Dynamics 365 Business Central alongside retail-focused solutions KatarGo, for mail order, and LS Central, LS Retail's unified commerce software.
"We implement projects for mail order, wholesale, retail and eCommerce worldwide," says Rainer Fischer, Managing Director at TSO-DATA. "Our success track includes installations in over 1,500 stores across 30 countries, on all continents. We are proud of having the right mix of international project management know-how and local expertise. We have, for example, completed fiscalization projects in 15 countries."
Be where consumers are, and stay agile
Although omni-channel and mobility are hardly news, many retailers still lag behind. "Smartphones and tablets are, increasingly, the primary hubs for brand-consumer interactions, and the number and type of devices that consumers use are only increasing," says Fischer. "Retailers should focus on strengthening their mobile and eCommerce strategy, as well as their self-service options".
TSO-DATA strongly believes in the power of innovation. "To stay ahead, retailers have to keep up with changing consumer needs," says Fischer. "It's important to act quickly and be where the consumers are – to be available just in time. And it's necessary to stay at the forefront, for example investigating how technology like artificial intelligence can help deliver new ways to shop and connect with consumers," he advises.
Come ask them about…
Voice shopping: "We have connected LS Central to Amazon Echo's Alexa at a customer's request," says Fischer. "This integration is now used successfully for voice purchasing and stock inquiries."
Cash register monitoring: LS Monitoring is a tool for monitoring data replication and scheduled jobs for cash register terminals, especially built for LS Central. It supports personalized settings, delivers automatic alerts and can even be accessed remotely.
Payment integrations: The TSO Web POS Pay enables easy integration to payment providers.
Are you planning to visit EuroShop? Come say "hi" at booth F18, Hall 6. If you'd like to make sure you have the time you need with our experts, don't hesitate to book an appointment.