The LS Retail team attended Directions EMEA in Hamburg, the partner conference for the Microsoft Dynamics 365 Business Central ISV community. With almost 3,000 attendees, it was possibly the biggest Directions EMEA ever – and like Directions, Business Central also keeps on growing.
Business Central is more popular and global than ever
The Dynamics portfolio was once a peripheral part of the Microsoft corporate strategy, but not anymore: today it's a core part of the company's offering. Here are some interesting stats we heard during the conference:
Business Central is one of the two fastest growing products in the Microsoft business app division, the other one being Microsoft Power Platform.
In the past year alone, the number of Business Central customers has increased by 60%. This astounding number was reported by Toby Bowers, General Manager at Microsoft, during his keynote.
There are more apps in AppSource for Business Central than for any other Microsoft product, including Office and SharePoint.
Business Central SaaS is now available in over 100 countries, making it a truly global solution.
If you're a company wondering if Business Central SaaS is going to work for you, know that there's another company out there with similar requirements and number of transactions already using Business Central.

Mike Morton, General Manager, Dynamics 365 Business Central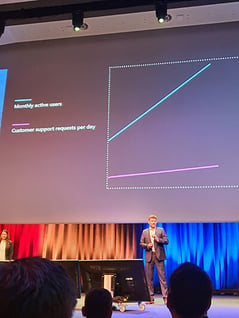 Technical focus on efficiency at scale
With the number of Business Central users growing every day, maintaining efficiency and high scalability are two of the top goals for the BC team.
Dmitry Chadayev, Principal Program Manager Lead at Microsoft, and Aida Seifi Labrosse, Director of Engineering for Business Central, explained how their teams are making sure there are always enough hardware resources to cater to all customers. Tests performed using telemetry showed that over 90% of the API calls are processed within milliseconds, and 99.96% of databases run within target capacity.
By focusing on automations and collaborations, the team has managed to maintain a stable number of customer support requests even as active users keep increasing.
Tighter connection between BC and the rest of the Microsoft stack
Business Central has now moved well beyond the capabilities of the old NAV, giving users the ability to use multiple Microsoft platforms while working in a single environment. The latest integrations with Teams and Power Platform open new opportunities for collaboration and automation.
Teams and Microsoft 365
Thanks to a new integration between Business Central and Teams it's now easier to collaborate and work on business data with colleagues who don't have a Business Central license. Say that your warehouse manager wants to see the status of an order. You can now embed BC data inside a tab in a Teams chat or channel. What you get is not simply a link, but a window from BC, providing access to details such as contact information or related documents. Your colleagues can see and use the data even if they don't have a BC license - they only need a Microsoft 365 license.
On the other hand, if your colleagues already have access to Business Central, they can take all the actions they need, such as editing data, without leaving Teams.
"This is a game changer in terms of having a unified business platform. Businesses can now access BC using a Microsoft 365 license, speeding up collaboration while reducing time and license costs."

Kristjan Johannsson, CCO at LS Retail

Microsoft Power Platform
Microsoft Power Platform is a line of intelligence and app connectivity software. It includes products like Power Automate, Power Apps, and Power BI. All of these are now interoperational with BC, giving users more opportunities to simplify their processes. For example, automation platform Power Automate can now run within a Business Central page in the context of business data. Users can add their own flows and automate repeated tasks.
The Power Platform is growing fast – today 42% of Dynamics 365 deals have a Power Platform component, and the market is expected to grow. Gartner predicts that 70% of new business apps will be developed with low code by 2025, and Microsoft forecasts that in 2023, the market for low-code services will amount to USD 107 billion.
Doing more with less
When budgets are tight, businesses need to be able to run smoothly, and achieve more with what they have.
While there are still businesses who are investing in technology, they tend to be cautious. They will select products and vendors they can trust, and that can provide them with
Strong digital security
Tools that help staff be more productive
A way to bring services to market faster when there is an opportunity
Higher efficiency
Business Central can support all these demands.
Security: Mike Morton underlined a continued strong focus on the fundamentals - performance, security, reliability. With ransomware-related data breaches doubling in each of the past two years, businesses need to know their data won't be compromised. The BC team is going to keep up its investment in cross-industry certifications and compliance.
Staff productivity

: The greater integration between BC and the Microsoft 365 products is just the first step. As BC becomes more interconnected with Office, the Power Platform, and other Microsoft products, employees can get the information they need faster, with fewer clicks and without having to navigate across multiple apps and logins.

Speed to market

: In AppSource, businesses can find thousands of apps to extend their ERP with vertical solutions and add-ons. BC also gives customers the ability to scale up and down quickly, supporting them when they grow and reducing costs during downtimes.

Efficiency

: Automations, and low code platforms like Power Platform, are the solution to reducing manual tasks and increasing efficiency and results.

Growing diversity in the Dynamics community
This year LS Retail was a proud sponsor of Women in Dynamics, a community with the goal of increasing inclusivity and diversity in the BC community. Since its launch at Directions EMEA 2021, WID has already made a difference: this year there were more female speakers than before – and more ISVs decided to join the WID community and sign the pledge to increase inclusivity in their companies.
"I found it very inspiring to see a session led by Renée Suner, a support desk team member who is only 21 years old," says Urdur Bjornsdottir, Consulting Manager at LS Retail. "She is the youngest speaker I know of speaking on stage at Directions, and she had great input and examples to share. I hope she will encourage other young people to join the community and contribute with their experience."