Microsoft Dynamics NAV 2017, agility and the cloud: reporting from Directions 2016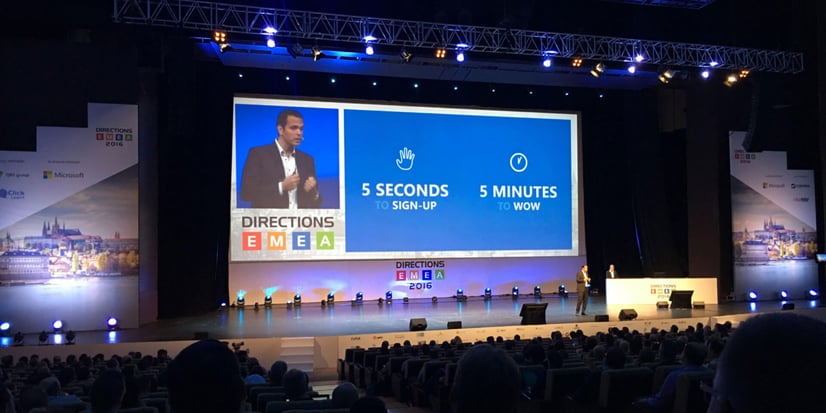 Directions EMEA 2016, the biggest Microsoft Dynamics NAV partner event, was held in Prague, Czech Republic, October 12-14, 2016. Twenty members of our team attended the event and brought back new insights and a renewed enthusiasm. Here are some of their thoughts about the event.


The pieces fall into the right place
We have seen it before: Microsoft keeps delivering more and more functionalities in every release, continuously adding value to customers and partners. This time they did it again - but it feels different. The recent improvements don't have loose ends, but are tightly integrated. Outlook now embeds Dynamics NAV functionality, creating a totally new user experience. In the future, switching between applications will be a thing of the past – at least for sales departments. Starting from a mail or contact in Outlook we can seamlessly view and change NAV contacts or customer data in Outlook and create quotes or orders. This is something a lot of users have dreamed of and demanded. Power BI reports are now fully embedded, and Azure Machine Learning (AML) can be triggered from C/AL code directly. This will put pressure on ISVs in this areas: as Microsoft's solutions become more and more mature, I expect we will see smaller BI/reporting vendors disappear or become niche players. Azure Machine Learning is still more a framework than a product, and Microsoft encourages partners to test and play. The use cases they presented worked to visualize the concepts, but did not apply to real life requirements. Here the future is a little bit vague, but if ISVs or Microsoft shape AML into a product, a lot of opportunities will arise. Microsoft is doing a great job, and Directions EMEA 2016 confirmed my belief that Dynamics NAV will remain the best ERP solution in the market for the lower and mid-segment. Written by Martin Kleindl, Consultant


The beginning of a new era
Microsoft Dynamics NAV 2017 offers total integration with Office 365. Users can now go directly from the email into the ERP transactions and vice versa. There will also be embedded Power BI, Microsoft's data visualization and business analysis tool which is modelling up to be an exciting addition, alongside other Microsoft solutions such as Cortana Intelligence, PowerApps and Flow. The most exciting moment for us at LS Retail was the introduction of our latest product, LS Express Start, during the keynote. With LS Express Start, a web POS for retailers, LS Retail delivers one of the first apps for Dynamics 365, the new cloud-based business solution platform by Microsoft. Marko Perisic, General Manager for Microsoft Dynamics 365 and Microsoft Dynamics SMB, introduced it in person. A huge milestone in business software history and the beginning of a new era! Written by Kristjan Johannsson, Director of Business Development


LS Retail partners in EMEA are ready for takeoff with the new LS Nav
Directions EMEA 2016 was a milestone for Dynamics NAV. At LS Retail we are especially proud of the public introduction to LS Express Start. Marko Perisic is responsible for the strategy and development of all Dynamics SMB products, so his words carry a lot of weight. At Directions, Microsoft announced the release of Dynamics NAV 2017. As usual, LS Retail will follow closely in the footsteps of Microsoft: we will soon be releasing the latest version of LS Nav, based on Dynamics NAV 2017. For the LS Retail team in Europe, Directions EMEA is the ideal venue to meet partners, and we used our time productively. We are currently working alongside our partners on a very high number of opportunities which are expected to close within the next 10 weeks. With 2016 looking to become yet another record-breaking year for LS Retail in terms of growth, many of the partners consulted us on how to close specific opportunities before end of 2016. During Directions we also started business plans for 2017 with a number of strategic partners in Europe. Next year we will present the LS Retail omni-channel solutions at major retail events such as EuroShop in Düsseldorf in March, in roadshows, in social media campaigns and naturally at LS Retail's international conference conneXion Madrid in April 2017. Our 3 conclusions from Direction?
With Dynamics NAV 2017 Microsoft continues the perfect platform for the LS Nav omni-channel products.
LS Express Start will become the retail solution for the future with Dynamics 365 for Financials.
The LS Retail partner network is better prepared than ever before to increase the LS Retail footprint in the retail and hospitality business in 2017.
Written by Carsten Wulff, Regional Director, on behalf of the European sales team


Bringing home tools for innovation and agility
We return from Directions EMEA 2016 with lots of new ideas. Here is some of the most enlightening information I took back with me: Being Agile at Microsoft Focus on flow rather than speed. If the bug backlog is getting large, it's better to deliver bug fix releases instead of new features. A bug is not allowed to be more than 14 days old until it's fixed. If it's a bug, fix it! Few success tips from Microsoft:
Ship frequently
Ship more innovation
Welcome change
Push quality upstream
Champion integral continuous improvement
Seek collaboration and teamwork
Test-driven development A room full of developers listened to an interesting lecture on how to handle test when writing code. It´s very important to write test that's short and does exactly what it's supposed to do — not more, not less. Create data in the test, and then clean it after the test has run. Write test code that is data agnostic, language agnostic, maintainable, self-documenting and fast. Best practices for successful testing:
Simple focused, specific
Tell a story with your test
Write test, not specs
Write tests for bugs
ClickLearn This software helps create manuals and training material in a simple way. You start recording and go through a flow of action in the system. After the recording is stopped, ClickLearn can deliver the content as a Word, PowerPoint, or video file. We will look closely into this software in the coming days, and test its efficacy. Microsoft Dynamics Learning Portal All learning materials across products in one place. The content is organized in four categories, from beginners to advanced. The person responsible for training within a company can set up a learning plan for each employee, then export that plan to the employee. In the near future it will be possible to get an overview on employees' progress in their courses. Selling a vision Microsoft talked about how important it is to sell a vision that is bigger than Dynamics NAV, and how each release is part of that vision. The vision is what helps the customer see the value in upgrading the system. Mobility in e-commerce Laptop usage on e-commerce sites is dropping, while mobile use has increased by 70 percent. Scalable apps are absolutely a must-have for a product to succeed. Written by Thorolfur Ingi Thorsson, Test and User Experience Manager