How to deal with difficult diners in 5 simple steps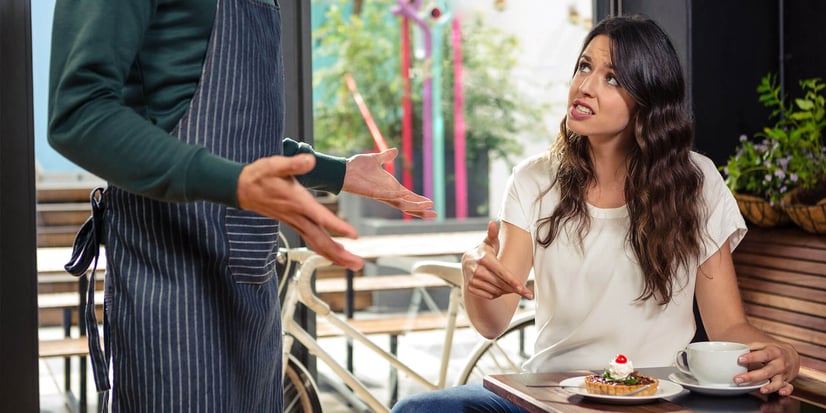 Thanks to the internet, today everyone can be heard virtually by anyone else. For restaurants, the explosion of review websites and online discussion forums means that it's more crucial than ever before to provide a spotless service, in order to keep customers' very public opinions positive. People love reviews: they don't just write them, they also read them, and take their contents into consideration before they decide where to go out dining. This means that, for restaurateurs, it's imperative to fix unhappy experiences before they spread onto the web and influence the decisions of other prospective guests. If you have a difficult customer on your hands, here are five simple steps to limit present and future damage.
1. Acknowledge the issue
Step one: when a customer complains, admit that there's a problem. If you minimize the issue, or get defensive, the customer will feel misunderstood. If your guest feels you are not taking her seriously, chances are that you will not only lose a customer, but also see a review pop up online in the following days mentioning how rude and disrespectful the service at your restaurant is. The thing is, bad news travel fast – bad reviews reach more than twice as many ears as praise for good service, the White House Office of Consumer Affairs reports. This means that, to keep your reputation high, you have to make sure that you get excellent reviews at least twice as often as you get complaints. It's therefore very important to transform unhappy guests into happy ones before they exit your doors. Acknowledge the problem and show your customers that you hear them, and understand their issue. Keeping everyone satisfied and respected is a great start to solving a problem.
2. Find a solution as quickly as possible
People often tend to ignore unpleasant situations, but when it comes to unhappy customers, pretending the problem isn't there will only make it worse. Give the issue all the attention it needs and make sure that you come up with a solution as quickly as possible. Do not see the customer as part of the problem; rather, see them as part of the solution. After all, they are helping you by pointing out what needs to be fixed in your company. Once you have come up with a way to solve the issue, always make sure to ask the customer if they are happy with it.
3. Empower your staff to offer discounts or free items
A discount — or even a free treat — can be a small price to pay to make an unhappy customer a returning one. 91 percent of unhappy customers will not willingly do business with you again, consulting firm Lee Resource reports. But resolve a complaint in the customer's favor, and voilà — 70 percent of them are willing to do business with you again. If nothing but a discount or a free item will help solve your customer issue, be open to doing just that. Empower your staff to hand out discounts or a free starter or glass of wine when they see fit. Make sure that your Point of Sale allows staff to create the discount so it will slide into the system seamlessly, allowing you to solve the problem as quickly as possible.
4. Prevent possible issues
One of the worst things that can happen is for an unhappy customer to go home dissatisfied. Once a disappointed guest leaves your premises, you have missed your best chance to change his mind. The problem is, you can't just expect people to let you know they are unhappy: according to data from the White House Office of Consumer Affairs, for every customer who bothers to complain, twenty-six (26!) diners stay silent. Give your shy customers a chance to let you know if something is bothering them by asking if everything is okay while they still have their meal in front of them. By raising and solving issues rapidly you will show that you care, and will possibly wipe out the problems before they escalate into a scathing online review.
5. Respond to reviews
If your unhappy customer goes home and leaves a complaint online for everyone to see, do not panic. Do, however, make sure that you respond to the review, and in your response offer a solution – not an excuse. This way you will not only make the customer feel like they have been heard; you will also show potential customers that you respect their opinion and welcome complaints that can help improve your restaurant. According to the BrightLocal Consumer Review Survey 2016, an impressive 84 percent of people say they trust online reviews as much as personal recommendations — so make sure that you leave a good impression in your online responses. An optimal solution would be to let customers know that their problem has been solved, and invite them back to your restaurant so they can see your improvements. In order to tempt them to come back, you could offer a free beverage, for example a glass of white wine that goes well with the fish they ordered last time. The loss of even a single customer can be costly. And let's be clear: as customer service guru Jay Baer says, no response is a response. Make sure that you do everything in your power to turn a bad experience in your restaurant into a positive one.