15 customer experience statistics that retailers cannot afford to ignore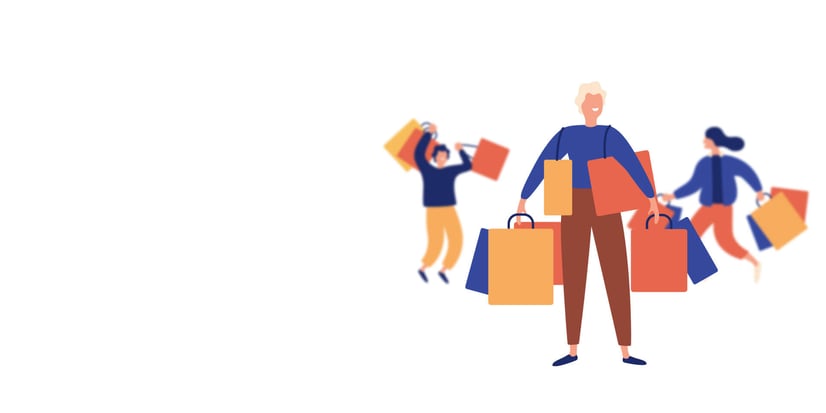 The competition in retail is fiercer than ever. At the same time, consumers are changing – and today's customer journey looks different from yesterday's. How can you provide a customer experience that will distinguish you from other brands, and that will drive consumers back? Here are 15 important statistics on today's consumers – and how you can use them to evolve your loyalty strategy.
Reviews can change minds in unexpected ways
At least 91 percent of consumers read online reviews before they make a purchase – and 84 percent of them trust the reviews as much as recommendations from family and friends, BrightLocal discovered in its yearly consumer review survey. At the same time, customer experience expert Jay Baer found that the majority of consumers are more likely to trust a company when it has a mixture of positive and negative reviews.
What does this mean for you?
First of all, this means you shouldn't worry about those "meh" and negative reviews online – they might be actually doing you a favor! Now, that's a weight off your back. At the same time, this data also says that you can't afford not to have reviews for your business and products. Encourage shoppers to leave reviews, for example by asking them to give their opinion straight after a purchase. You can even offer something back – some retailers draw a weekly gift card among users who have left at least one review. Another way to encourage reviews is to point out where customers should leave their feedback. It doesn't matter if it is on your e-commerce site, below each product page, or on your Facebook page. What matters is that users can easily find the reviews, and use them to make up their mind. Finally, promote the reviews that make you look great, and always respond (politely!) to negative ones.
Returns happen
A strict return policy may save you a few headaches, but be aware – it will also lose you a lot of business. According to research from Promocodes.com, 51 percent of consumers say they avoid shopping at retailers with strict return policies. In specific, shoppers don't want to be forced to bring a receipt when making a return, and can't stand being forced to accept store credits or a product exchange: when they return an item, they expect to be able to get a full refund. Past experiences leave a mark: in the same research, more than 63 percent of shoppers say that they avoid doing business with retailers after they have had a negative return experience. On the other hand, a positive return experience can lead to loyalty: 95 percent of online shoppers say they would shop again with a retailer that provided a satisfactory return experience, according to a survey run by software firm Narvar.
How you should react:
Product returns will happen, whether you like it or nor. To make it easy for yourself and satisfy customers:
Do not be too strict with the return time frame. A very short time frame may reduce returns – but you will also lose sales.
Enable customers registered in your loyalty program to return products even if they don't have a paper receipt.
Make returns easy, for example by enabling customers to return in-store items that were purchased online.
Offer full refunds for returns. If it feels like losing money, just consider the payback in terms of loyalty and future business.
Mobile has taken over
Smartphones are not just used on the go anymore: today, more than 50 percent of searches happen on mobile devices, and the figure is just going to grow. Mobile phones are effectively replacing desktop computers as the primary means of access to the web: in Adobe's latest survey on mobile habits "Touching the infinite," a whopping 92 percent of shoppers said they already consider smartphones their primary device to browse and shop. It's not just while shopping online that mobile is preferred: 77 percent of shoppers use a mobile device to search for product information even while shopping in physical stores – with only 35 percent of customers choosing to ask their product questions to in-store salespeople, RetailDive reports. Despite the proliferation of mobile, and its growing importance in the lives of consumers, only 20 percent of marketers have a well-defined mobile strategy, reports "Digital Intelligence Briefing", a global survey conducted by Adobe and Econsultancy.
What you should do:
You can't afford to disappoint mobile shoppers. Make your organization mobile-centric by:
Mapping the mobile journey so that you can deliver the kind of information consumers look for, when they look for it.
Committing to a mobile strategy – that means dedicating resources to it. According to Adobe and Econsultancy, 40 percent of companies say that their top challenge is lack of resources in terms of both budget and staff.
Getting in-house expertise. In the same survey, 23 percent of businesses pointed out that there was a lack of mobile knowledge and understanding within their organization.
Getting the whole company behind it: your mobile strategy won't be successful if just a small team is dedicated to it. Everyone in the company must begin to think mobile.
Ensuring consistency: mobile must be part of a bigger, unified vision. All experiences, no matter the channel, must ultimately sync up and make sense together.


Problems are left unsolved more often than you think
According to research from Gartner on consumer complaints, businesses report that an average of 76 percent of consumer issues are resolved on first contact. The very same customers, however, told a different story when interviewed: in their opinion, their issues were solved on first contact only 40 percent of the time. That's almost half as often as companies believe.
What it means for you:
Great customer service has the power to transform a dissatisfied customer into a loyal brand advocate. Conversely, bad customer service can kill loyalty. Make sure that your team has a solid system in place to effectively deal with issues:
Listen to the customer without prejudice. Don't make assumptions on what their problem might be!
Ask what would make them feel better – are they looking for a product replacement? Do they want to return their purchase? (Whatever the answer, an apology for the inconvenience should always be part of the process).
Tell them what you can reasonably offer
Make sure that the customer is satisfied with your solution. This can be done immediately, or later on via a short customer survey.
Take the feedback into account. Something went wrong – can you fix it, so that it won't happen again?
Breed loyalty by making it personal
75 percent of consumers are more likely to buy from a retailer that recognizes them by name, recommends products based on past purchases, or knows their purchase history, Accenture reports. Other studies confirm these findings: according to Forrester research, 77 percent of consumers have chosen, recommended, or paid more for a brand that provides a personalized experience or service. At the same time, however, 68 percent of marketers are struggling to achieve a real-time view of their customers, as revealed in the "Personalization Development Study" by Monetate. Creating personalized content is the biggest challenge for 83 percent of marketers, Rapt Media adds.
How to react:
Today's consumers want brands to recognize them as individuals, and send them targeted messaging and offering. Consumers know that they need to provide brands with data to obtain these levels of personalization – and they seem to be ok with it. According to a Salesforce study, the majority (56 percent) of consumers are even willing to share their personal data to receive faster and more convenient service. To achieve personalization, collecting data is the first step – but on its own, it's not enough. You must also:
Build data and analytics capabilities that enable you to process a large amount of data on a repeatable basis – and to get the information you need out of it.
Remove internal silos, and align all departments in the company to ensure this data is shared transversally and used rapidly.
Have specific goals in mind. Personalization is not just a buzzword or a gimmick; when done correctly, it will solve actual pain points, and ultimately improve the customer experience.
Once you have a clear strategy, implement the right technology – the one that can help you reach your goals.
Consumers are changing – and your strategies to reach them and delight them should change, too. Keeping a close eye on emerging trends and shifts in the consumer journey is important to continue building lasting relationships with your customers. If you need help figuring out which type of technology you should implement to improve the experience in your retail business, don't hesitate to contact our retail experts.