What is the cloud? 13 key terms all retailers should know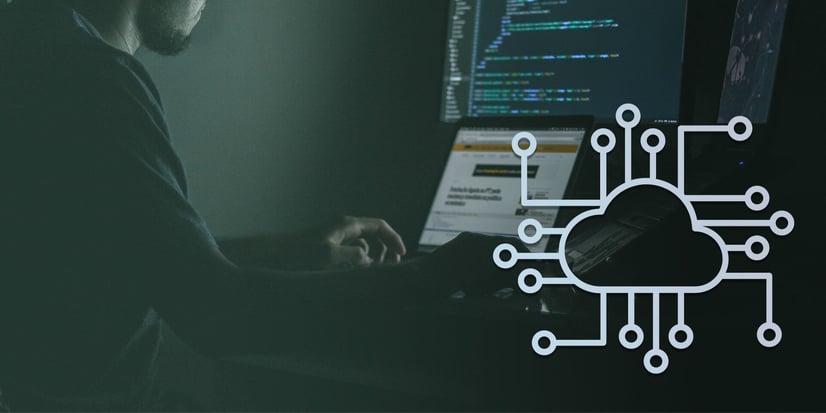 The cloud is one of the biggest IT revolutions of the last decade. Almost all enterprises (93%, according to a study by Flexera) already use multiple public and private clouds, and spend on cloud is only expected to increase. According to a report from MarketsAndMarkets said, in the next five years the global cloud computing market size is expected to grow at a compound annual growth rate (CAGR) of 17.5%
Here are some of the most important terms used in cloud computing, so you can easily follow the developments in the industry and better understand its opportunities.
Cloud computing
What is commonly known as "the cloud", or "cloud computing", includes all the services – storage and access of data and programs, networks, analytics and more – delivered over the internet, on demand. The cloud enables data centers to operate like the internet, with computing resources being accessed and shared in a secure and scalable manner.
Cloud provider
A cloud provider is a company that provides cloud-based infrastructure, platforms, business applications or storage services to other organizations or individuals. Some of the top global cloud providers are Microsoft, Amazon, and Google.
Edge computing
Edge computing is data processing and analyzing that takes place at the "edge" of a distributed IT architecture, close to where the data is created. Edge computing is a de-centralized approach that enables organizations to optimize cloud computing systems by processing some of the data locally. According to Gartner, today less than 10% of enterprise-generated data is created and processed at the edge, but the number will grow to 75% by 2025.
DaaS, IaaS, PaaS, SaaS
Daas (Desktop as a Service) is a virtual desktop that enables enterprises to support remote workers' need to access enterprise applications securely and cost-effectively. The increase in working from home in recent times has helped make DaaS highly popular.
IaaS (Infrastructure as a Service) is a service that delivers virtualized computer infrastructure over the internet. The main uses of IaaS include the development and deployment of PaaS, SaaS, and web-scale applications.
PaaS (Platform as a Service) is a cloud-based computing environment that recreates the traditional infrastructure components in the cloud, enabling developers to develop and deploy software on a pay-as-you-go basis.
SaaS (Software as a Service) is a way of delivering services and software on demand. The software is usually hosted on the provider's servers, and accessed by users through web clients. The provider takes care of maintaining the application and managing its security, performance and availability. SaaS applications are usually delivered through a pay-as-you-go model. Research firm IHL Group predicts that the retail and hospitality SaaS market will grow 242% globally over the next four years.
"CIOs can invest significantly less cash upfront by utilizing cloud technology rather than scaling up on-premises data center capacity or acquiring traditional licensed software."

Sid Nag, research vice president at Gartner
Internet of Things (IoT)
The Internet of Things is the network created by computing devices embedded into physical objects and which can connect to the internet. Today, a number of everyday items can connect to the internet, including cars, kitchen appliances, watches, doorbells, home assistants, etc. Retail stores are also increasingly filled with IoT-enabled items, from shopping carts that can help shoppers find the items in their list, to price tags that can change in real time based on demand, to lighting and heating systems that optimize energy use.
Microsoft AppSource
AppSource is Microsoft's store for applications built on top of Microsoft's cloud-based solutions (including, but not limited to, Office 365, Dynamics 365 and Power BI). Microsoft users can extend their software system functionality with apps built either by Microsoft or by one of Microsoft's certified partners.
Microsoft Azure
Microsoft's public cloud computing platform, and one of the leading public clouds in the world. Azure provides a range of cloud services including storage, tools for productivity, intelligent analytics and machine learning, as well as the ability to build, test, deploy and manage applications. Azure supports both cloud-only and hybrid cloud deployments. According to TechRadar, it is "the best cloud services platform" on the market, with highly comprehensive services for all types of industry.
"Cloud platforms can help deploy new digital customer experiences in days rather than months and can support analytics that would be uneconomical or simply impossible with traditional technology platforms."

McKinsey, "Three actions CEOs can take to get value from cloud computing"
Private, public and hybrid cloud
A private cloud is a cloud computing platform dedicated to a single company for private use. Private clouds can either be built within a company's own data center, or located off-premises, and owned and provided by a third-party organization. All management, maintenance and updating of data centers is the responsibility of the company that owns the cloud.
A public cloud is a computing service owned and provided by external third parties over a public network such as the internet. The service provider usually makes resources, such as applications and storage, available to the general public for free or under a pay-per-use model. The leading public clouds are Microsoft Azure, AWS, Google Cloud and Alibaba Cloud.
A hybrid cloud is a cloud computing environment that blends on-premises, private cloud and public cloud services. The hybrid model is increasingly popular with companies, as it enables them to configure their own mix of in-house and cloud-based applications, based on their needs. 87% of enterprises that took part in Flexera's State of the Cloud Report say they use a hybrid cloud strategy.
If you'd like to know more about moving your retail business to the cloud but don't know where to start, contact our experts and get an answer to all your questions.