6 ways retailers are redefining the concept of store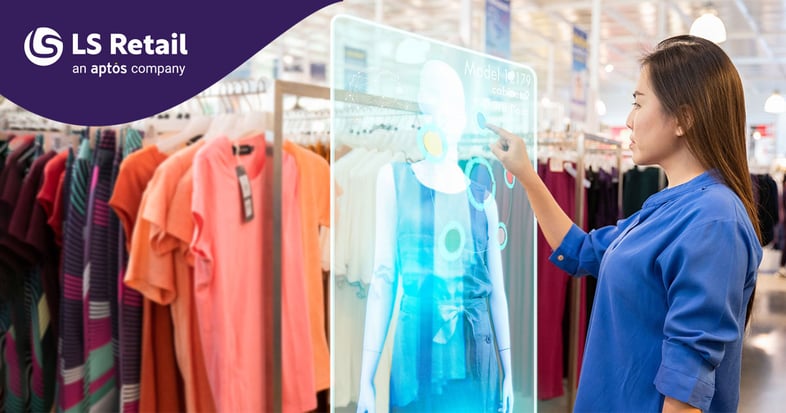 Although brick-and-mortar retail is far from being dead, online is changing expectations towards frictionless, immediate shopping, where everything one needs – products, in-depth information, item comparisons, reviews, personalized service – is just a click away.
To adapt to this evolution in customer behavior, the most forward-thinking businesses are already redefining the concept of physical store. Here are some of the strategies they are using.
1. Encouraging interaction
Consumers can access what they want online, so if they come to your store it's for something more than just a purchase. Nike's latest New York location was engineered to give customers an unforgettable shopping experience through interaction with the products.
Focusing on the "active" part of their active lifestyle brand, Nike has devoted large amounts of floorspace to "trial zones." Customers are encouraged to choose a product from the display shelf and give it a test spin in try-and-buy areas which include a basketball half-court and treadmills facing wall-sized screens showing outdoor running paths.
During the product trials, customers can use full-body motion sensors and real-time video playback to track their performance. This data is then automatically uploaded to the Nike+ app, where the customer can access it from home. Sales associates in-store can help break the data down and ensure that customers are getting the right product for their needs. This data can then also be used by Nike to determine what the customer's preferences are, so they offer targeted promotions and discounts that really hit the spot for every single customer.
With the support of data analytics, brands deliver a highly personal and hands-on in-store experience.
2. Personalizing products and services
According to a recent Deloitte Consumer Review, 36% of consumers are interested in purchasing personalized products or services, and a YouGov survey found that two thirds (67%) of consumers who have already bought a customized piece of clothing or footwear would be willing to pay more for a personalized item. While customizations have been around for a while online, some retailers are bringing personalization to the physical store.
In the Levi's Tailor Shops, customers can customize their Levi's apparel on the spot, giving customers a sense of uniqueness and engagement that cannot be found with mass-produced items. Several Levi's Stores also offer customers the possibility to personalize t-shirts with their own graphics, name and colors. The ability to have unique items quickly produced on-demand transforms the store from a place where generic products are sold to one where exclusive items are co-created and produced to each customer's unique requirements.
Personalization can be high-touch without needing to be high-tech. Nordstrom's men-only Manhattan store offers tailored services in the form of clothes alterations and personal stylists who can come to advise you in the comfort of your own home: convenient, seamless, and traditionally classy.
3. Creating digitalized environments with AR
Augmented reality (AR) mixes interactive, digital enhancements with real-world products or environments. Forward-looking brands, such as luxury department store Neiman Marcus, have been using to add the best aspects of online shopping to the physical assets of traditional locations.
In the Neiman Marcus New York store at Hudson Yards, ultra-high definition screens known as Memory Mirrors enable customers to try on a product and see 360-degree "reflections" of themselves. If they want to see the product in different colors, patterns, or fits, they can select an option on-screen – no need to go through the hassle of changing into a different item.
Shoppers can also use the Memory Mirrors at product counters to virtually test makeup without having to wash their faces several times, as well as to compare eyeglasses without needing to switch frames. Each station can also record the data and send it to the customer's mobile device, so they can use it to buy the items online. At the same time, the store can use the information to tailor future products and promotions to their needs.
With the digital augmentation of the shopping experience, online and offline commerce merge in the physical store, giving shoppers get the best aspects of both worlds: real-life product interaction and infinite aisles.
4. Designing stores for social media sharing
Modern consumers love to share what they are doing, where they are, what products they just bought, plan to buy, or simply desire. When opening new locations, or refurbishing old ones, the most social-savvy brands are appealing to this tendency with exciting, picture-perfect store layouts. An excellent example of store design made for social media sharing is Urban Outfitters' new location in Philadelphia.
Built on the sprawling site of a former garden center, the complex integrates several of the plant nursery's remaining greenhouses. These highly characteristic structural elements serve as the picturesque foundation for the product displays. The strategically placed vertical garden walls, combined with the natural light that floods through the roofs over the greenhouse, create irresistible opportunities for selfies – no filters required.
The Carnaby Street, London, store of show brand Irregular Choice is designed to be snapped. From the video staircase, where the latest shoe styles are displayed on rotation, to a carousel horse and four unicorns, to a wall lined with disco-ball mirror tiles, to the bright colors and flowers, it gives social consumers plenty of opportunities to say to the world "I was there".
By transforming your store into a photographable space in which people can shop – and look good while doing so – you can fuel shoppers' desire to share where they are with their peers and followers, enticing other potential consumers to visit.
5. Telling the brand's story
Some retailers are redefining the concept of store by focusing on their brand's heritage told through creative in-store storytelling.
American outdoor recreation product company The North Face has embraced this concept, and its stores now highlight the brand's most iconic products in a museum-like way.
The Soho New York location has transformed its sales floor into a gallery of brand artifacts. The brand's signature jackets and bags are labelled with a placard that offers insight into their place within the brand history. Duffels and sleeping bags used by famous mountaineers are displayed in glass cases with information about how and when they were used.
This focus on a heritage-inspired, storytelling environment transforms the store from a transactional place to an educational one, where items are lovingly preserved and used to build a story. Besides creating an aura of value around the products, this is also a way to make your customers feel included in the legacy of your brand every time they walk through your doors.
6. Offering the unexpected
On the far end of the spectrum where the concept of store is being redefined, some retailers are creating high-concept retail spaces that are more like art installations than traditional stores. Products start to play a minor part, while the environment becomes the focus.
The Shanghai flagship store of sunglasses company Gentle Monster is one of the most extreme versions of this trend. While there are products on display, the space aims to be a highly artistic habitat of avant-garde sculptures, videos, and photography inspired by various themes.
The carefully curated pieces burst through walls. As shoppers have to wind their way through them, product browsing becomes a cultural adventure. The items for sale then become a sort of treasure that shoppers can discover and take home with them. The result is a space that mixes art and fashion, providing shoppers with a sensory overload. While this may not be a format for all retailers, Gentle Monster has managed to redefine the store into a social happening that gets people talking.
The time has come to for you to start envisioning what the future of your store will be. While there are numerous ways to modernize your strategies through technology and concept, it's important that you consider what will work best for the business you are, while allowing you to become the business you want to be. Read our e-book on future retail trends to find out where the industry is going, and discover how you can maximize the potential of your physical stores.
And if you want to experience and try out top retail software and technology, join us in Reykjavik, Iceland on 18-19 May 2020 and register to conneXion Iceland, our international conference and expo dedicated to retailers, restaurateurs and partner companies.