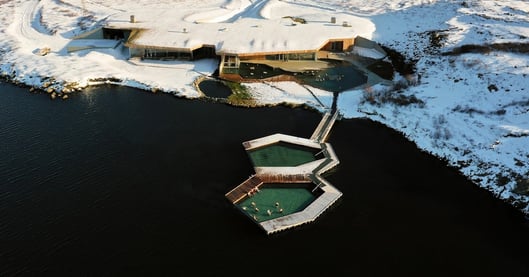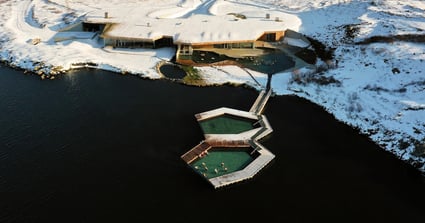 With two geothermal floating pools, a sauna, a cold-water spray tunnel, a tea bar, in-water pool bar, and an on-site restaurant, the spa welcomes over 90,000 visitors every year.
Vök Baths is also an extremely unique destination; unlike other geothermal pools in Iceland, which are high in sulfur, Vök Baths is the only one that has certified drinkable geothermal water in the country. Because of this special quality, the company has been able to get more creative with their offering. They've collaborated with a local microbrewery to create two specialty beers made from the geothermal water at Lake Urridavatn, and a local farmer who supplies the company with herbs to use at their tea bar. There, customers can try an array of delicious teas filled with piping hot geothermal water straight from the tap.
Business case
As a company that receives both locals and travelers from around the world, Vök Baths saw great demand from the industry to add further services, like treatments, to their spa offering. They quickly realized they needed a solution that would both be able to connect their ticketing, F&B, retail, and other services and allow them to grow effortlessly.
The solution
After previously running on Navision and an older version of LS Retail software, Vök Baths decided it was time to upgrade to LS Central and Microsoft Dynamics 365 Business Central.
LS Central is a business management software that unifies retail, restaurant, activities, inventory, member management, and more, in one platform. The software is modular, so businesses can easily add the functionality they want without having to invest time and effort into complex software integrations. LS Central's hotel functionality (PMS) was also an attractive feature for Vök Baths. "We wanted a solution that would give us the possibility to expand into other directions in the future," says Adalheidur Gudmundsdottir, CEO of Vök Baths.
For a company that already has numerous bookings to keep track of, such as admission packages, annual passes, restaurant services – and plans to start adding treatments, such as massages, later this year – having a powerful reservation software is a necessity. With Bookings for LS Central, businesses can keep track of all their daily reservations with the same software they use for their sales and accounting.
The implementation of the LS Central suite at Vök Baths has gone very smoothly. "LS Central has already streamlined a lot of our processes," says Adalheidur, "A lot of the clicks we used to have to go through to retrieve information have been eliminated, so there's fewer steps, which has made life easier for our employees."
Benefits
With the implementation of LS Central, Vök Baths is already seeing great improvements in their day-to-day operations, especially with data collection and self-service. "Technology plays a huge role in a smooth guest experience," says Adalheidur, "Some customers like to speak to an employee. Others prefer to get to the baths quickly so they can relax. LS Retail software has made it possible for us to deliver what our customers want."
Vök Baths also uses contactless bracelets that guests can use to buy food and drinks at the bar. "Because the sales at the bar connect to the bracelets, we can create reports to see what drinks are most popular with certain genders or nationalities, or with groups. We can also use the data to prepare better for peak times of day and stay in touch with guests both pre and post trip," says Adalheidur.
Vök Baths welcomes a mix of tourists, who may only visit once, and locals, many of whom hold annual passes. "With all information in our system, we can now better communicate with specific groups like annual passholders. We can see what town they're from, send them personalized offers – such as an invite to test out a new product – and we understand them better, to make sure we always deliver the right services."
The next step for Vök Baths is to focus on expanding and developing their offering with the help of LS Central. "When you have happy employees and happy customers, that's how things run smoothly," says Adalheidur, "We are really satisfied with what the LS Central software has helped us achieve so far and are looking forward to seeing how it will support our future growth."