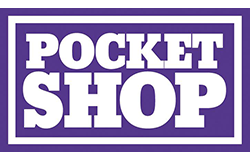 Pocket Shop
Founded in 1989, Pocket Shop is a bookstore chain headquartered in Stockholm, Sweden. From a small, provisional location in the central station in Stockholm, Sweden, Pocket Shop has grown to 28 stores and 30 POS in four different countries: Sweden, Finland, Germany and England. The founder of Pocket Shop, Mathias Engdahl, has even received a medal from the king of Sweden for excellent entrepreneurship. Pocket Shop sells good, cheap pocket books, at central locations, such as Liverpool street station in London, Frankfurt airport and Arlanda airport in Stockholm. All stores have purple decorations and knowledgeable, passionate employees. The brand's vision is to allow everyone to experience and own books. Since 2012, Pocket Shop is owned by Bonnier Books, a leading media company in the Nordics.
A system for a growing retailer
As many other retail chains that start to grow, Pocket Shop encountered struggles when it came to having a good overview of the entire business. The company was also unable to have detailed follow ups of sales. Pocket Shop wanted to keep on growing as regards both geographies and profits, without increasing their administrative burden. Pocket Shop started looking for a user-friendly, reliable system that could handle their specific needs:
A massive amount of daily transactions.
Long opening hours (some stores are open 19,5 hours per day).
Simple handling of several currencies (necessary for the airport locations).
Additionally, as most of Pocket Shop's stores only have one POS installed, it was of paramount importance to find a system that would run smoothly without major disruptions.
Clear requirements
for their future ERP/retail management system:
Control over their economic flow.
Ability to retrieve statistics regarding sales and products.
Simplification of processes such as cash accounting.
They also needed a better solution for their ordering system, which was neither modern nor efficient.
LS Nav: retail experience and innovation
After investigating various solutions, the company encountered LS Nav: a modern retail management system that meets all the needs stated above, has an innovative mindset and can boast great experience within the retail industry. The system was implemented in Pocket Shop by Bedege, a certified LS Retail partner. In 2016 Pocket Shop bought the Pocket Shop stores in Germany, which until then were partly owned by a cooperation partner. The German locations were then using SAP. It was an easy strategic decision for Pocket Shop to implement LS Nav across these stores as well. By running the same system in all the stores, no matter the country, it's easy to monitor everything from the head office in Stockholm. In total, LS Nav was implemented across 21 stores of the chain.
Total control
With LS Nav, based on Microsoft Dynamics NAV, monitoring its whole business is easier for Pocket Shop. The system also makes it possible to manage products, prices and POS functionality centrally. LS Nav's Data Director facilitates the data exchange processes, saving the business precious time and ensuring that accurate data is transferred to all POS terminals. Pocket Shop used to record product orders on a tape in the store, and then play the tape to the warehouse workers. Today, such methods belong to the past for the company: Pocket Shop employees use hand-held inventory devices to send files as regards both purchases and inventory tasks.
Pocket Shop has noticed many benefits since implementing the system:
It takes less time to manage cash report administration at HQ.
Sales reports are quicker to create.
It's easier to create staff schedules based on statistics from the system.
LS Nav facilitates inventory processes in store and at the head office.
The system simplifies administration of articles.
The company has more control over results and stock value per store.
It's now easier to control purchasing and incoming deliveries.
A bright future
Prior to LS Nav, Pocket Shop didn't have a system that supported its needs and new demands. With LS Nav, they have a solution that they can grow with, and which will help them grow. Pocket Shop wants to keep up with digital trends and satisfy the tech-savvy, well-informed modern customer. The company feels that selecting a software solution by LS Retail, an innovator in the changing retail industry, is a great way to stay ahead of the curve. The company is already considering additional modern solutions from LS Retail, such as the LS Omni loyalty app and in-depth analytics tools, like LS Insight, based on Microsoft Power BI. In the past few years, Pocket Shop has gone through a journey worth a best-selling book - and the company is still writing its next, exciting chapters.
With our current expansion in mind, we need a unified solution across our regions. Connecting our German and English stores to LS Nav was a natural decision for us – and a successful one, too.

Olle Fagerlund, IT Systems Coordinator