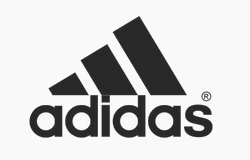 adidas
The omni-channel customer experience is at the heart of future strategies for both adidas and LS Retail. LS Retail is working on functionalities built around increasing mobility and personalization, from stock management on handheld devices to personalized product recommendations using Artificial Intelligence.
The world-class shopping experience adidas offers is also possible thanks to LS Retail, which has helped adidas reach its goals and optimize its retail landscape with:
continuous system enhancement, with multiple yearly releases;
high usability: the self-explanatory menus make basic staff training easy and fast;
deep process understanding of the business environment from the LS Retail IT team;
prioritization of releases from a global retail point of view;
high levels of customization available;
extreme flexibility: the system can react easily and quickly to market requirements and changes;
high-quality support: the LS Retail team guarantees honest, open and fact-based discussions, which help drive change and achieve results fast and effectively.
Functionality-rich, customer-oriented
Thanks to LS Retail, today adidas can manage its business more efficiently and serve its customers better with:
auto-replenishment function: what used to be done with manual processes has now been automated;
e-commerce integration: adidas customers can now check available in-store items on the e-com page;
mobile inventory: in-store employees can perform real-time stock checks on tablet devices;
stockroom requests: staff can use the inventory app on mobile POS to send an item order to the queue. The order gets picked up by another employee and the item taken to the shop floor, straight to the customer;
training mode, allowing to switch between normal and training mode on the POS to train staff efficiently for all the daily operations;
various types of customization to comply with local legal and fiscal requirements, for example through the creation of specific fiscal invoices that may be required by local authorities.
Collaboration and innovation
Both LS Retail and adidas have been reinventing and enhancing the shopping experience for decades. The collaboration between the two companies is based on a matching view of the future of retail, one where the customer experience is at the heart of technological change and innovation. Dominik Meier was very satisfied with the results of the collaboration, and at his keynote speech during conneXion Madrid he said: "The mobile POS and inventory app with stock room requests perfectly showcases the "Three Cs", which are the cornerstone of our mindset at adidas: Collaboration, Creativity and Confidence."


Dominik Meier, Senior Software Engineer at adidas, speaks at conneXion Madrid
In retail there are constantly new trends to study and watch out for, including omni-channel strategy. Having the customer at the center of your retail business is vital for success. LS Retail can easily support your growth strategy, help meet demands and deliver results.
There are over 1150 adidas stores around the globe running LS Retail solutions.