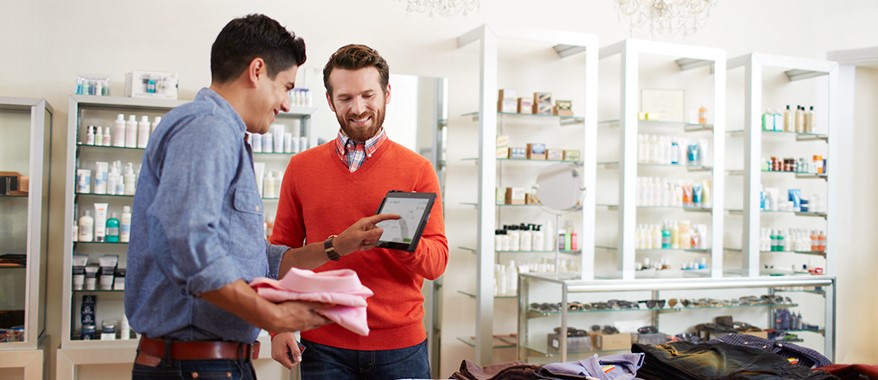 We've all been there. Ready to check out, we idly peruse the store's website while we're in the queue, and bingo! We find the same shirt 50 percent off on the store website. Excitedly, we ask the cashier if they'll honour the online price, only to hear an apologetic, "Sorry, we can't." Confused, we smile politely, step away from the till, and order the shirt online at the lower price, with free shipping included. The take-home message? A disconnected in-store and online shopping experience is—at best—disappointing for customers. If consumers move around and shop across various channels, shouldn't retailers be prepared to provide them with a seamless experience?
Offering a unified experience across all channels
Today's always-connected consumers can shop anywhere, at any time, so a seamless shopping experience is no longer demanded—it's simply expected. When it's not there, it leaves consumers dissatisfied. For retailers to maintain their competitive edge, merely being present across different channels (e.g., print ads, social media, website) and devices just isn't enough. Savvy retailers are focusing on omni-channel marketing to create a consistent experience for shoppers everywhere their brand is present, including retail stores, websites, and social media. They are adopting business strategies and solutions that enable customers to purchase on any channel, rather than just in-store. Why? Because the most valuable kind of customers are those who shop both in-store and online from the same retailer. According to the International Data Corporation, omni-channel shoppers have a 30 percent higher lifetime value than those who only shop one channel.
Setting up your associates for success
To deliver an omni-channel experience for your customers, you need to take a critical look at your business structure. Retailers of all sizes should have a retail management system with end-to-end capabilities, from POS and store operations to financials and supply chains. The right system will support interactions between retail associates and the customers they service. If the pieces are fragmented, the customer experience will be too. But if everything is aligned, then harmony ensues. Imagine the following scenario: The shoes you purchased online clash with the outfit that you want to match them with. Mildly disappointed, you make your way to the store, return in hand, only to find that you left the delivery note on the kitchen counter. The cashier smiles reassuringly and asks for your email address and voila! He has found the receipt and not only offers to return the item, but also shows you the ultimate pair in the perfect colour, based on your in-store interactions, online browsing, and purchase history. You buy the shoes—delighted—and tell your friends about the experience. This example of outstanding customer service isn't just a result of great training. It's also about giving your team quick access to customer information across all your channels, so they have the information they need to make the right recommendations. Without connected e-commerce and in-store POS systems, your sales associates won't be equipped to convert returns into sales. To learn more about delivering a complete shopping experience across all your channels, check out our e-book: Fashion retail moves fast. Are you keeping up? [hubspot id="8"]