7 trends that will drive retail in 2020 according to NRF Retail's Big Show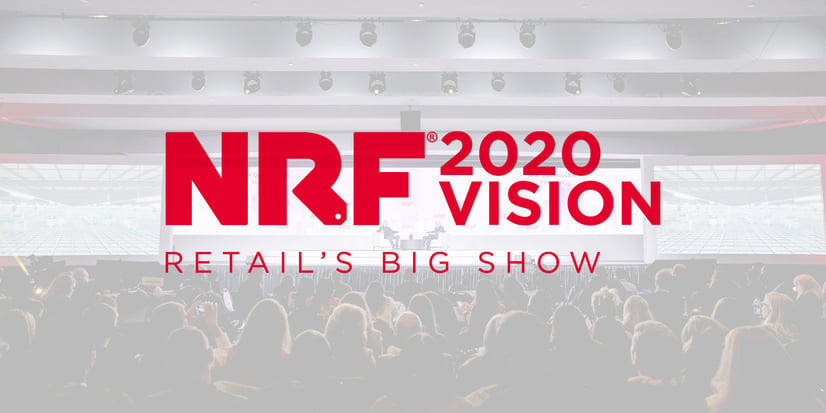 What are the biggest retail trends that will determine success or failure in the next decade? According to Microsoft CEO Satya Nadella, "every retailer will need to build their own tech intensity." Nadella's technology-focused keynote opened NRF Retail's Big Show 2020, the largest retail conference and expo in the world.
At the show, which saw over 40,000 attendees from 99 countries, tech confirmed its place at the heart of retail – as long as it's used to enhance the human side of the business. This translates into using data to personalize, down to the single individual; implementing AI tools that free up employees, so they can dedicate more time to customers; building platforms that unite people and enable them to consume in more responsible, sustainable ways.
Here are some of the major trends that will drive the retail of tomorrow.
Empowering employees brings returns
With online gaining ground, the survival of physical stores depends on the experience, and employees play a vital role in delivering the knowledge and warmth consumers are looking for. "I think one of the common themes going forward is finding ways to create human connection. Human interaction. The world needs that," said Kevin Johnson, President and CEO at Starbucks. The company is equipping its employees with technology that allows them to spend less time on mundane tasks like managing inventory or typing an order, and more time connecting with customers. "In many ways, Deep Brew [Starbuck's AI] and the focus on machine learning and artificial intelligence is all about finding ways to help humans have more time to be human. It's not about robots replacing humans. It's about technology that frees up our baristas to better connect with one another and connect with customers," Johnson said. More brands discussed the importance of employee engagement. "There's no better investment you can make than in the people you have on your team, who are serving the people that are paying you to be there," confirmed John Furner, CEO at Walmart U.S.
Mission and purpose drive loyalty
A growing number of consumers select products based on the brand, rather than product features or price point. Clear values, and the ability to drive change, are increasingly important factors in building brand loyalty and establishing deep connections with consumers.
The mission-driven companies who discussed their success on the NRF stage included Cotopaxi, an outdoors gear brand that uses sustainable supply chains and aims to "create innovative outdoor products and experiences that fund sustainable poverty relief"; Bombas, a "sock and apparel brand with a mission to help those in need" that, for every pair of socks sold, donates one pair of socks to homeless people; and billion-dollar beauty brand Lush, famous for its fresh and handmade cosmetics, ethical buying, and no-packaging policies.
Staying authentic can drive true loyalty, according to Pooja Agarwal, Chief Operating Officer at Birchbox, a beauty product subscription service. "When we're not human, our customers notice, and some may leave. When we act human, those that notice choose to stay even when things get really hard," she said. "That's the big lesson we've learned: sometimes if you make the harder choice up front, the non-short-term choice when it comes to business economics, your customers will stay through it and you will get a larger lifetime value."
AI is making retail more personal
Brands are using artificial intelligence to make retail more personal and human. Starbucks is planning to use AI in multiple ways to foster human connections. "If a customer comes up to our point of sale to place an order […], right now the barista is heads down and typing in that order," Johnson explained. "We're doing some research that says, 'what if that barista had a microphone with some AI Deep Brew natural language behind it, and they're having a conversation with the customer'. […] We're trying to invest in those things that we know can enable our Starbucks partners to spend more time connecting with one another, and connecting with customers."
Stitch Fix, a personalized styling service, uses machine learning to analyze each customer's preferences and suggest products. These recommendations are then passed to a stylist, who checks them and puts together a box of highly personalized pieces. When the items are returned, customers fill in information about each piece: size, fit, quality, value, style, and more. This information is then used to enhance the recommendation algorithm, improving both service and inventory in a continuously effective feedback loop.
Going direct to consumer can keep your brand relevant
In order to strengthen the relationship with customers, established brands are cutting the middle man and going direct to consumer. Earlier this year, Nike made headlines about its decision to cut ties with Amazon to focus instead on its own retail chain. At NRF, L'Oreal discussed how its Color & Co service offers customers personalized hair colors and professional consultations – the services hair salons traditionally offer. Visitors to the Color & Co website can have a video consultation with a professional colorist through a webcam, get personal advice, and even buy tailored hair dye that will be sent to their home. L'Oreal says the service is highly popular, showing 25 times higher conversion rates than the traditional "find your perfect color" online quiz. As technology evolves, we can expect more brands to use it to create a more human relation with customers – and empower new, flexible ways to share knowledge between professionals and consumers.
Renting is the new owning
Modern consumers live with the contradiction of wanting more – products, variety, styles – while also aiming to consume, and pollute, less. Thankfully, there's a solution to this dilemma – and that's renting. "Rental clothing is the future of fashion," touted a Bloomberg article earlier this year. This trend was confirmed at NRF. "Fast and sustainable don't have to be in conflict," said Jennifer Hyman, CEO and co-founder of Rent the Runway, an online clothes and accessory rental platform. According to Hyman, the biggest logistical difference between a rental service like Rent the Runway and a traditional retailer is the need to optimize returns management. "With Rent the Runway, we receive 100% returns," she said. "We have to take those millions of units of clothing that have been worn, we then have to inspect them, dry clean them, repair them, reassemble them with new units and often ship them out with a zero-day turnaround time," she explained. Considering such complex logistics, it's unsurprising that Rent the Runway describes itself as a "fashion company with a technology soul."
Buying used is back in fashion
Buying second-hand is hot again, to the point it got its own rebranding. Meet "recommerce", the 21st century version of buying used. According to a report by second-hand sale platform thredUP, resale of used clothes and apparel grew 21 times faster than the market over the past three years. "This year alone, in the US over 60 million women will buy secondhand. […] One in three Gen Z-ers will buy secondhand," said Anthony Marino, President of thredUP. "This is happening, and it's happening in a big way."
Resale is not just for marketplaces; it can also represent an opportunity for brands. Charles Gorra, founder and CEO of luxury handbags resale platform Rebag, quoted research showing that people are more likely to shop in a store if it also sells second-hand items. And Andy Ruben, CEO at resale platform Yerdle, strongly believes that to succeed in the future, "brands and retailers must own their re-commerce." When brands manage their resales first-hand, he said, they can control and curate the experience. Customers can be sure that they get genuine, authenticated items whose condition is guaranteed by the producer, and brands can deliver their experience to different consumer segments. "The world is ripe for this next generation of customers, who maybe can't purchase the product at full price," said Gorra. "Through the means of resale, they can buy that product and get a taste of that experience." And perhaps become tomorrow's devoted fans.
Having the right data, and knowing how to use it, is key to success
Customer experience is still the differentiator. And data is key to delivering relevant, personal, and just-in-time experiences. "Retailers generate 40 terabytes of data every hour," said Satya Nadella in his keynote address. "And not just any data — it's the demand signal for the world." It's imperative to collect rich, clean, unsiloed data – but then this data must be used to inform AI and analytics projects that deliver practical value. "How do you use all that data, and how do you take digital technologies to the next level to empower employees, enable the digital supply chain and redefine the retail experience itself?," Nadella asked.
Rent the Runway recently partnered with Marriot W Hotels to simplify business and holiday trip packing. You can select your favorite clothes on the Rent the Runway site and have them sent straight to your hotel room. At the end of your trip, you can leave everything at the reception – the hotel will take care of sending it back. This innovative idea, Jennifer Hyman said, came from looking at the data. They noticed subscribers would change their shipping location for a week, and then move it back. "We saw that women were already doing this, and we thought we could take this one step further," Hyman said. "We wanted to create the dream of traveling without luggage."
"The data, used effectively, will reshape business models," Nadella said. During NRF 2020, data, transparency, a desire to do good and a sense of purpose emerged as some of the must-haves for brands to shape the retail of tomorrow.