The technologies that will deliver returns for hotels and resorts in times of crisis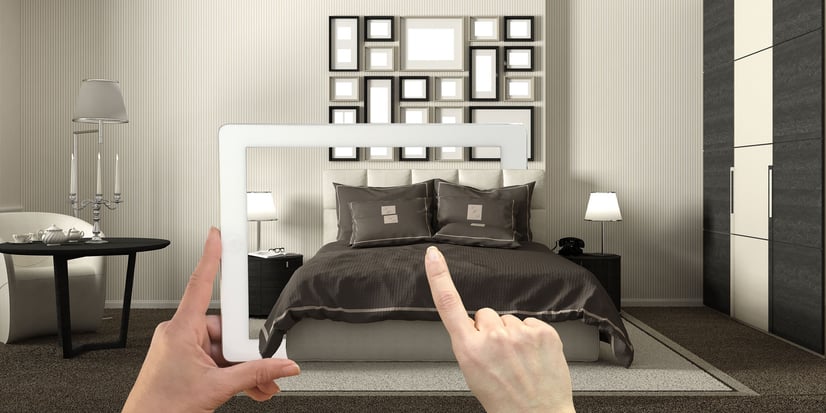 Breakfast buffets, minibars and in-room service are just some of the hotel staples that have suddenly become a thing of the past, at least for the foreseeable future. What would have been inconceivable just a few months ago is now the new norm as hotels and their guests quickly adapt to life alongside the coronavirus.
As hotels begin to cautiously open their doors to the public, they've had to make some big changes to keep their staff and guests safe – and it's affecting the entire experience, from how guests check in to where they eat their meals during their stay.
Safety first
Hotel businesses are looking to leaders like Four Seasons to set a precedent for what the new hotel experience looks and feels like. The luxury hotel chain changed its procedures early on as it offered free housing to medical professionals in New York, Riyadh and Mumbai at the height of the pandemic. As well as clearly communicating its rigorous health and safety measures – which include temperature checks for staff and guests, disinfecting rooms daily, blacklight inspections by room attendants, hourly cleaning of public areas and giving guests masks and hand sanitizer – the hotel brand has quickly switched to contactless service wherever possible through its mobile app. On the app, guests can make and manage room, restaurant and spa reservations, request luggage pickup, airport transfers or room service, and enjoy wait-free check-in and check-out.
In an industry known for being hands-on and personal, technology is stepping up to help out where human touch and interaction are no longer deemed safe. Even as businesses fight for survival, many recognize that investments in training, technology and safety will pay off, both now and in the long term. Indeed, the World Economic Forum describes this as the "iPhone moment" for the hospitality industry.
"Move towards 'low-touch' experiences," said the international organization for public-private cooperation. "Invest in mobile check-in and encourage people to use it – even if they are standing in the lobby. A best-case scenario would be allowing a guest to enter your building and have no physical contact with any surface outside of their room. Just as healthcare rapidly adopted telehealth, so hotels will need to speed up the shift to online check-in."
With this in mind, here are five areas where you can use technology to transform the hotel experience for the better, and ensure a successful transition to a post-Covid-19 future:
1.
Attracting guests back
The hotels that deliver on safety will differentiate themselves quickly. Consider, then, fine-tuning your booking tools to remind customers about the measures you've put in place and any restrictions they need to be aware of before their stay. Good communication and reassurance is key. While many brands are tempting guests back with amazing offers and presale deals to stimulate demand and generate income, those that clearly demonstrate and communicate the new measures they've taken to keep their guests safe will earn consumer trust. And be sure to maintain high levels of communication leading up to and during their stay. Take advantage of online chat capabilities and social media to cope with the surge in customer queries.
In the shorter term, as more younger people show interest in travel than older generations (who are typically more susceptible to Covid-19), consider how you reach out to them and promote yourself on social media. Some businesses, for example, are successfully hosting live streams on Instagram and TikTok to introduce travel destinations and deals.
2.
Contactless check-in/out
Guests want keyless and contactless check-in and check-out services. They want to be able to simply walk into the hotel, go up the elevators or stairs by themselves without touching anything and know that the room they are stepping into is clean and safe.
Experts say that contactless will be the new currency in hotels. Right now, self-service check-in/out technology is the number one feature for maintaining a safe distance between guests and staff in the hotel. Anything that minimizes human involvement and touch is key.
In more than 3,200 Marriott hotels, for example, guests can already use their phones to check in, access their rooms and order specially packaged room service straight to their door without any contact. And this trend is no gimmick. It's the ultimate convenience, paired with total safety. It's therefore unsurprising that experts predict it's here for the long run.
Linked directly to this is contactless payments. As guests bypass the terminal at the front desk, so too will they expect to be able to pay for all hotel services without handing over their card or cash. Paper credit card authorization forms will soon become a thing of the past.
3.
In-room experience
The World Economic Forum recommends a number of enhanced safety measures hotels can put in place to keep guests safe during their stay. These include mounting hand sanitizer dispensers outside and inside of rooms, and near high-touch areas such as elevators; putting wipes inside the rooms so that wary customers can perform their own wipe-down of high-touch surfaces; and placing a handout on every bed that details exactly how the room was cleaned. But beyond basic hygiene, guests still expect hotels to make their stay as fulfilling, memorable and relaxing as possible. After all, it's likely they'll be spending more time in their rooms than ever before.
Even before coronavirus, hotel brands had begun bringing technology into the hotel room to make guests' stay more convenient and enjoyable. Touchless and voice-activated systems and online in-room services enable guests to use personal or assigned smart devices to enter rooms, book services, access amenities and control various room functions, from turning on the lights to setting the in-room thermostat. Bulky information manuals – a trap for germs – will soon be a thing of the past too as hotels do away with paper and go online.
In-room experiences, including relaxation offerings, will also become more popular. Hyatt, for example, has partnered with the Headspace meditation app. Now Hyatt guests can access content on relaxation and sleep-guided meditation through the Hyatt loyalty program mobile app and in-room TVs. In the current climate it's a smart idea: limiting contact with other people, while still providing an experience related to wellness. By making the hotel room a safe space for relaxation, hotels can help their guests truly unwind and solve some of their travel-related anxieties.
4.
New dining options
Once a highlight of the hotel experience, buffets – from breakfast bars to full evening meal spreads – have been quickly phased out and are unlikely to make a comeback, at least for a while. Concerns about the spread of the virus during mealtimes, and contamination from guests helping themselves from communal dishes, have forced hotels to rethink their dining options. Many are expanding their room service menus and encouraging guests towards private in-room dining. The Grand Hyatt Shanghai has even designed an in-room cocktail mixology kit.
Whether a guests decides to dine in the comfort of their room or in the restaurant, with the right technology in place you can minimize contact and friction. For example, you could allow guests to place their food order on their smartphone and have the request sent directly to the kitchen to be prepared – no need to touch menus, or even converse with a waiter. To make this work, there are some changes hotel restaurants need to make. For instance, the online menus must be as clear and informative as possible, including multiple pictures of each dish as well as all ingredients it contains, with specific attention to allergens.
5.
Spa/health club management
While many hotels have been forced to close their spas and gyms in the name of safety, policies are being drawn up to make these facilities available to guests while complying with Covid-19 restrictions.
Measures being put in place include offering private personal-training sessions and booking timeslots to access certain facilities, such as the swimming pool, to limit numbers and keep crowds at bay. Technology has a critical role to play in all of this as services and information that were previously handled or shared in person switch to online: booking, check-in, daily schedules, treatment brochures and so forth. For many, this shift requires businesses to consolidate their operations and implement technology that brings together their various on-site departments – hotel, restaurant and spa – to deliver a seamless offering to their guests. Having to call a different number to speak to the spa team no longer cuts it. Guests want to be able to book services and timeslots in the comfort of their own room, from a single app or device.
A digitally connected hotel experience
As we begin to emerge from the coronavirus crisis, a focus on self-service, the right setup for physical distancing and new cleaning protocols will lay the foundation for the hospitality industry's recovery. And as hotel businesses focus on leaner operations, they will be more proactive in turning to software to manage their workflows.
Hotels recognize that now is the time to implement new technology to change the guest experience for the better and streamline their services. While today the focus is undoubtedly on contactless technology, those that take a more holistic approach to transforming their operations and prioritize technology integration – choosing a property management system that can quickly activate and manage an array of contactless services – over quick fixes will open the door to endless possibilities.
There is a solution out there that allows you to introduce new online guest services and run your entire hospitality business, including your restaurant and spa, on one single platform. With LS Central for hotels you get all the functionality you need for your hotel or resort chain in one platform, without ever having to switch systems. Contact our experts to find out how it can best serve your and your guests' needs.