Reimagining the restaurant experience in 2021 and beyond: 6 trends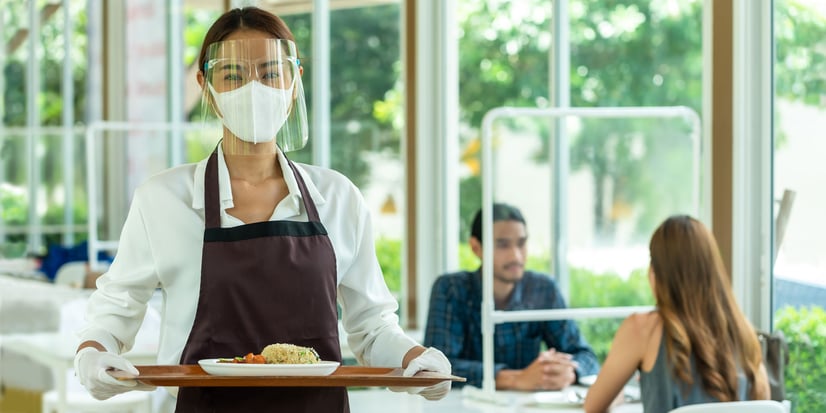 After months of quarantine, closures and social distancing, what does the future hold for restaurants in the post-Covid world?
The global public health crisis has dealt the hospitality industry one of its greatest challenges yet. While some restaurants may sadly never reopen, the survivors find themselves doing business in a new world of table dividers and plexiglass screens, mandatory masks and gloves, temperature checks and sanitizer stations. Has the restaurant experience we know so well disappeared forever?
Experts say no. But the coronavirus crisis has accelerated some trends that were already on the horizon, and which are likely to stick around. Here is a look at some restaurant experiences we can expect to see more of in 2021 and beyond:
1. Off-premises dining
Ordering food from restaurants to enjoy it at home had been growing in popularity for at least a few years. In 2018, research by Technomic highlighted that 59% of all food service meals were being consumed off the restaurant premises. "Dine-in [restaurant] visits are now the minority," said Joe Pawlak, managing principal of Technomic, while discussing global dining trends.
In the past few months, the stakes have changed. The restaurants who were able to offer off-premises dining, and bring food straight to consumers' homes, are the ones that kept business going, and made it through the closures.
Even once all restaurants are open again, it makes sense to keep delivery and takeout options open for customers who may feel uneasy about dining out in the longer term. During this time, some restaurants have found themselves reaching customers that are far beyond their usual catchment area as they widened their delivery range, and customers sought new options from further afield. From joining food delivery services such as Deliveroo, Uber Eats and DoorDash, to developing their own mobile ordering apps, restaurants have a variety of choices to make takeaway services available to current and new customers.
During the pandemic, contactless curbside pickup options have been growing in popularity. At select restaurants of global pizza chain Pizza Hut, customers can now pick up their food order without leaving their car. After ordering online and driving to their selected restaurant, they simply open their car trunk, call the Pizza Hut team inside, and wait for staff to bring the order out and place it in the trunk.
Even fine dining establishments are pivoting to takeaway options. In Chicago, USA, Michelin-starred restaurant Alinea began offering meals to go, selling a beef short rib Wellington, mash potatoes and crème brûlée for $34.95 per person. Customers can place their order via the restaurant's reservation system; available slots usually sell out within hours. The restaurant also offers margarita cocktail kits, which proved extremely popular. The move has allowed Alinea to continue trading and retain much of its staff even when its physical restaurant had been forced to close.
2. Eating al fresco
As public confidence grows and more people warm to the idea of eating out again, al fresco dining is growing in popularity. As restaurants are forced to reduce their indoor capacities to facilitate social distancing, those with outdoor spaces are taking advantage of the warm temperatures to maximize the opportunity to serve customers. Governments and local councils are also backing initiatives to facilitate outside dining in an attempt to allow restaurants to flourish again.
In the Soho area of London, when they reopened in July, hospitality venues were allowed to set their tables and chairs outside on the street to serve food and drinks. The move, called "Social Soho", also banned cars from entering key streets in the neighbourhood and relaxed licensing measures, freeing up bars to serve alcohol in the public spaces. In the USA, online booking service OpenTable has reported a tenfold increase in outdoor seating compared with a year ago. City administrations are also helping restaurants reopen safely outdoors, waiving fees for outdoor dining and speeding up the processing time for applications.
Although many of these changes were introduced in response to coronavirus, outdoor dining has the potential to be popular beyond the pandemic, especially as businesses and consumers seek out more sustainable ways of living. Beyond social distancing needs, swapping roads and parking spaces for pedestrianised areas and outdoor dining is an effective way of creating community spaces while decreasing pollution and traffic in busy metropolitan areas.
3. New menus and pop ups
The restaurant industry was abuzz when chef René Redzepi confirmed plans to convert his famous Copenhagen Michelin two-star restaurant into a hamburger joint. The temporary wine and burger bar is a pop-up in the grounds of Noma, four times winner of the World's Best Restaurant. Noma's world-famous twenty-course meals have been replaced by affordable burgers and snacks as Redzepi aims to kick-start life in the Danish capital again.
"I don't know how things will change," Redzepi said to Bloomberg. "We are one of the best restaurants in the world and we are opening up with burgers and ice-creams for kids. How much more different can it be? We are doing the most casual thing of all the good restaurants. Later on, we will have a few more wine-bar type snacks, oysters crudités, vegetables. This is a new experiment where the door is open to everyone and it feels quite exciting."
Other businesses are taking a similar tactic, rethinking their offering to be more accessible and viable during the pandemic. In Seattle, fine-dining restaurant Canlis shut its dining room and launched a morning Bagel Shed, a lunchtime burger drive-thru and a dinnertime family meal delivery service, complete with bottles of wine.
"Fine dining is not what Seattle needs right now," Canlis posted on its website. "Instead, this was one idea for safely creating jobs for our employees while serving as much of our city as we can."
Another twist on this concept has been to turn hotel rooms into pop-up restaurants. Swedish hotel Stadt in Lidkoping transformed its bedrooms into private dining spaces, so that customers can eat at a safe social distance. The rooms accommodate groups of 2 to 12 people, and orders are placed over the phone so diners don't need to leave their room. Each sitting lasts for two and a half hours, but diners can opt to stay overnight for an additional fee.
4. Contactless ordering and payments
Placing an order via a mobile app, or paying by waving a mobile phone or card over a payment device, were already gaining momentum before the pandemic. For customers, it's a matter of convenience and speed, while restaurants gain from increased accessed to up-to-date guest data. When the pandemic hit, contactless ordering and payments quickly became one of the safest ways to operate, due to the little to no human contact required.
For many restaurants, the transition to digital had been slow and haphazard – until Covid-19. Since the crisis began, consumers' adoption of restaurant mobile apps has grown considerably. Digital consultancy Mobiquity analysed the reviews of the the top quick-service restaurant apps, which include McDonald's, Burger King and Chipotle, and found a 36% increase in the number of reviewers who said it was their first time using such an app compared to the same time last year.
Even when the pandemic is over and health and safety measures potentially relax, contactless ordering and payments will be here to stay. Consumers have gotten used to increased transaction speed and convenience. The restaurants who haven't yet adopted contactless orders and payments had better start investing in their digital capabilities.
5. Online table bookings
With limited indoor seating, compulsory table bookings and a generalized anxiety around crowds, the spontaneity of passing by a restaurant and popping in for a meal has been taken away from many consumers.
Online table reservation systems have taken on new importance. By enabling guests to find the most convenient day and time at a glance, and without having to speak to anyone, they are simpler to use and more convenient than the traditional phone call. For restaurants, these systems provide a structured way of adhering to strict social distancing guidelines with no hassle or confusion.
With a modern online table booking system, restaurants can handle seat reservations at a safe distance, stagger guests' arrival times, facilitate virtual waitlists and monitor capacity to minimize crowding. Several governments now ask restaurants to collect contact data for each customer to help manage the spread of coronavirus. A booking system will simplify the work for businesses by storing and organizing this information automatically, with guest details locked down to a specific table and timing.
6. Automated kitchen operations
While restaurants are successfully putting measures in place to safeguard their customers, a greater challenge is protecting their cooks and kitchen staff. How do you maintain social distancing in confined kitchen spaces?
Restaurants are getting around this challenge trialling smaller staff teams and staggered shifts, while at the same time strictly monitoring everyone's health before they enter the kitchen. Technological solutions are also playing an ever important role in simplifying operations and minimizing contact between kitchen and front-of-house staff. Tools such as kitchen display systems (KDS), where orders are sent from the POS straight to screens in the kitchen, help improve communication while reducing the number of times front of house staff need to enter the kitchen. KDS also help streamline work in the kitchen. Menu items are automatically displayed in the correct preparation order, and if there are more displays in the kitchen, dishes are automatically routed to the correct screen (for example, burgers are sent to the grill display while deep fried chicken wings are sent to the fryer display). This kind of organization can help staff complete their tasks faster, and without getting in each other's way.
KDS have also proven essential for restaurants switching to takeaway services, as they help to keep track of all orders, ensure food is ready for specific delivery time slots and remain in control during busy periods.
Even when the fear of contagion subsides, we can expect to see positive returns for restaurants that offer high cleanliness standards, ensure proper privacy among diners and use technological solutions to make the dining experience more convenient, practical and relaxing. If you want to use this time to update your restaurant experience and need help to understand what technology solutions would work best for you, do not hesitate to contact our experts.