LS Retail at Microsoft Inspire 2018: lessons learned, and some ideas for next year's event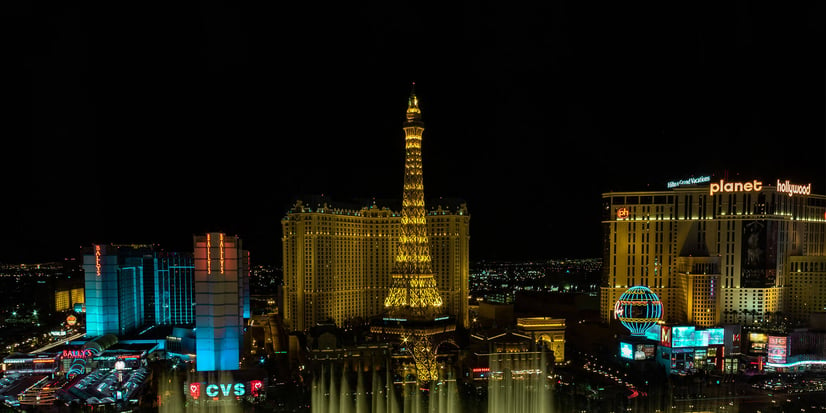 On July 15-19, the LS Retail team attended Microsoft Inspire 2018, the yearly event where Microsoft celebrates its global partner ecosystem.
All you need is… partnerships
This past week at Inspire was all about networking, celebrating partnerships, learning, and more networking. Over 18,000 Microsoft partners from 132 countries joined the celebrations. Add them to the thousands and thousands of people in Las Vegas – it sure made for an impressive experience! This year's Inspire keynotes, re-named corenotes, focused on digital transformation and how the cloud will fuel the modern workplace, Artificial Intelligence, mixed reality and the Internet of Things, and partnerships, partnerships, partnerships. The core message? Together, we can achieve more. Microsoft announced that the investments they are making in technology, people, and programs, will help ensure that all partners can take full advantage of the current market, which is estimated at 4.5 trillion dollars, with new ways to sell solutions and services alongside Microsoft. For our team, one of the highlights of the event was getting to meet some of our partners from around the world, hearing what's happening in their markets, and sharing our growth plans with them. Another definite highlight of the event was the confirmation of LS Retail in the Inner Circle for Microsoft Dynamics. The Inner Circle is an elite group including the fifty highest performing Microsoft Dynamics partners. This marks the tenth time, and the eighth year in row, that our company is invited to join this prestigious group. We should be getting used to this – but to be honest, it's always a thrill to have your company awarded on stage! This year I also lived the Inspire experience in a much more personal way than ever before, as I took part in a fantastic marketing experience panel with other marketing superstars from the global Microsoft partner network. On the panel we shared best practices and tips and tricks, related our strategies and campaigns, talked about wins and fails, and more. For a marketer in a rapidly changing world, it is a complex but fundamental challenge to successfully combine the physical and digital words, to come up with innovative ways to drive business, and to always think ahead. For this reason, it is paramount that we marketers share ideas and tricks, so we can reach success together. If you also want to get to know the LS Retail marketing secrets, do not miss our marketing workshop at our event of the year, conneXion Munich! Join us in Munich, Germany on 3-4 April 2019. Register now! Reported by Eloise Freygang, CMO at LS Retail
Ready for co-selling and the cloud
The LS Retail team just came back from an exciting week in Las Vegas, a place that is certainly inspiring for a company like ours dealing in first-class retail and hospitality. And apparently, a place we will have a chance to revisit, as Microsoft has decided to keep Inspire in Vegas for the next four years! This year, Microsoft decided to combine two events: Inspire, for partners, and Microsoft Ready, an internal kick-off event for Microsoft staff. This was a great idea – we need more opportunities for Microsoft staff and global partners to meet and network. Unfortunately, some logistic issues spoiled the execution. Despite the problems, there were some great moments, such as the session for Small, Medium and Corporate (SMC) segment held by Chris Weber, Corporate Vice President of Microsoft's Commercial Growth Organization. The energy in the room was great, and the crowd had an optimal mix of Microsoft staff and Partner attendees. This is what co-selling and partnering should be all about! We hope to see more sessions like this one next year. Co-selling is the new buzzword for Microsoft, and one that makes us excited about the future. With co-selling, the Microsoft sales staff gets extra compensation for selling our global ISV solutions. This means that the sales teams should be keen to team up with ISVs like us, and help us win more deals. So far, we have had very promising meetings with Microsoft teams from regions such as Australia and Europe. They have been pro-active in reaching out and building a coordinated execution plan, and we see big joined opportunities ahead. Not all regional chapters have, unfortunately, been as keen to team up. As a top Microsoft ISV with thousands of global customers in retail and hospitality, we are disappointed that Microsoft has not invested more resources in the retail space. Disappointingly, a session on teaming up ended up being cancelled due to lack of participation. Considering that retail represents a USD 75 billion opportunity, as underlined by Judson Althoff, Executive Vice President at Microsoft, in his keynote, in the future we hope to see more focus on the retail space from Microsoft. We take home several key lessons from this very packed week: - Microsoft is on the right track with its cloud strategy, as their latest numbers clearly show. - We need to step up and get our partner channel to embrace the cloud and our cloud-based solutions, such as our AI-based recommendation engine LS Recommend. This is the future – and we have all it takes to be ready for it. - Co-selling is an excellent idea. We are very excited about it, and ready to team up with Microsoft sellers and create more business together. - It was very inspiring to get together with global Microsoft partners and staff. Networking should be the number one goal for Microsoft Inspire 2019. Events like the Meet & Greet for Microsoft Dynamics, the Holland and Belgium house, and Chris Weber's sessions, are best practices that we hope to see more of. Before next year's Inspire event, we hope Microsoft will work on:
Simplifying the partnering process and reaching out proactively, so we can collaborate to win more deals together.
Really integrating Microsoft Inspire and Ready, for example using hotels that are located close to each other, and allowing attendees to be part of both events.
Building a retail-focused team that brings the retail partner community together, and goes after the huge opportunities in the market.
The saying goes, "whatever happens in Vegas stays in Vegas". We hope this is not the case when it comes to the lessons learned from this event. Reported by Peter Vach, Partner Experience Manager at LS Retail [hubspot id="1"]