Data, intelligence, and inescapable transformation: a summary of Directions EMEA 2018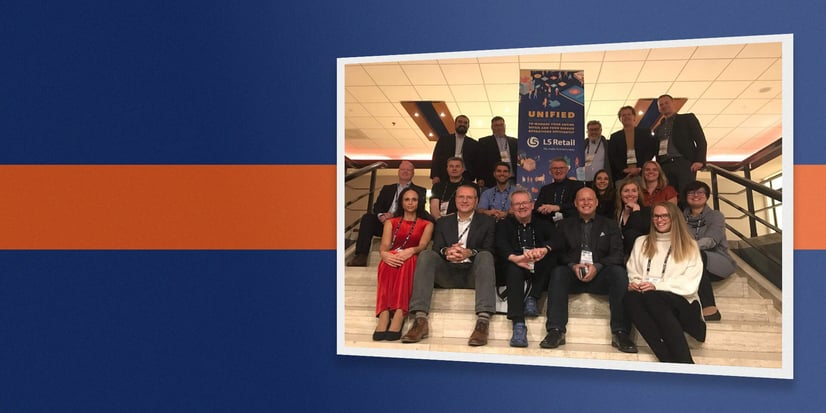 Directions EMEA is the yearly independent conference organized by Microsoft Dynamics partners for partners. On October 29-31, over 2,200 developers, experts, sales representatives and executives from all over the world convened in The Hague to discuss the new era of Microsoft Dynamics 365 Business Central, talk cloud, and make plans for a successful future. We were there too, learning and sharing ideas, meeting current and prospective partners, and demoing our unified commerce solutions at our sponsor booth. Here is a rundown of the main themes that dominated the event.
The fastest growing product in the Dynamics 365 portfolio
Business Central is already the fastest selling product in the Dynamics 365 stack, with a monthly customer growth of 60%. The limited geographic availability is just temporary: Microsoft promised that Business Central will eventually be available in as many countries as Dynamics NAV.
Key message #1: "If you have not yet built a practice around Business Central, now is the time. The business is accelerating quickly," said Toby Bowers, Senior Director Microsoft Dynamics 365.
The intelligent transformation
Businesses create and collect more data than ever before – and thanks to intelligent systems, they can use that data to take smarter actions. Artificial Intelligence (AI) is now being infused throughout the whole Dynamics software solution stack as the engine that will drive more effective ways of working. In practice, this translates into systems forecasting delivery or payment delays, so that retailers can better predict their cash flow; natural language searches, so you can find what you need even if you don't know the correct term; software that understands intent, so you don't have to look for information across multiple databases; systems that learn, and get better at performing tasks. Now, if AI is the engine, data is its fuel. To ensure that the insights the AI systems deliver are accurate, and valuable to the business, retailers will need to collect large pools of reliable, high-quality, structured data.
Key message #2: Get the intelligent tools you need to draw insights from your data. "In the future, the only platform that matters is a data platform," says Marko Perisic, General Manager Microsoft Dynamics SMB.
At the same time, data is a sensitive subject. Can we (should we?) entrust our data to businesses, AI systems, cloud services? In the era of GDPR, the issue of trust is top of mind for individuals as well as businesses. If we lack trust, we won't give up our data. And without data, there are no insights.
Key message #3: Build rules and systems your customers can trust – and choose providers who respect your data, and deliver reliable platforms.
The long journey to the cloud
Intelligence, for Microsoft, resides in the cloud. At the same time, there is the growing realization that many retailers, and most businesses, are not ready to pack up and move to the cloud – yet. Here's good news: they won't have to. Business Central will be available both on-premises and on cloud (in selected countries, for now) as a single product, with the same codebase. The shared codebase opens the door for hybrid implementations: that is, businesses have the choice to run their solution with their preferred mix of on-premises and cloud-based systems. "I can foresee retailers deciding to run their system, and maintain their data, on premises, while using the cloud to get business insights. You could create a shadow copy of your data in the cloud, and use it to leverage intelligent tools and services like PowerBI, machine learning services, Flow," explains Martin Kleindl, Product Director at LS Retail. "This is a great solution for retailers that want to explore the advantages of the intelligent cloud, while limiting risk and keeping control over their data."
Key message #4: With Business Central, you can experience what having a true cloud solution feels like, without having to rip and replace your current infrastructure.
The partner advantage
This being a partner conference, much was said on the role of the partner ecosystem in the success of Dynamics. "As Business Central becomes available in more geographies, the partners' role in local delivery and expertise will become a critical factor in bringing business value to customers, and delivering success for the product," says Magnus Norddahl, CEO and President at LS Retail. Toby Bowers underlined how the partner channel is Microsoft's key business differentiator, adding value with additional software solutions as well as with feedback from the frontlines. "Microsoft has definitely been listening to our feedback. Now Business Central is available both on premises, with dual rights, as well as pure cloud, with full cloud capabilities," says Sigrun Dora Saevinsdottir, COO at LS Retail. "The introduction of the License Credit Transition (LCT) as an option to upgrade a recent license (after October 1, 2018) from NAV to Business Central was also a good solution to the 'concurrent-to-named user' dilemma."
Staying open to change during changing times
The change of name is just a small part of the transition taking place inside and around the Dynamics community. "The kind of technology that will make you successful is changing," says Martin Kleindl. "In the past, it was the right mix of hardware, software, and platforms that made a retail management solution the winning one. Now, data is becoming the key business differentiator. In the future, the winning management solutions will be those that can collect data from multiple sources, for example IOT-connected smart shelves or sensors, unify the information into one single version of the truth, and provide meaningful insights which retailers can then act on," concludes Kleindl. This is the unique proposition of LS Retail's unified commerce solutions: by removing internal silos, they provide retailers with a single overview of the business, enabling them to take effective, data-based decisions. From a technology point of view, two main shifts took center stage at Directions: the phasing out of the Windows client, which will be replaced by the web client, and the shift from C/AL to AL. This change, although long announced, has left part of the Dynamics community shaken and concerned. Many partners have a steep road ahead, as they need to quickly gain the competencies required to convert all their applications into Visual Studio Code and AL. The change in technology also demands a change in perspective when it comes to bringing the product to market. "Marketing isn't simply an important part of business success – it is the business. With the new technology, we need to change the way we think about our products, and the type of conversations we have with customers," says Eloise Freygang, CMO at LS Retail. "In the new Business Central world, how will your company distinguish itself in the market to attract new customers? How will you communicate the benefits of the cloud in a way your customers can relate to? How will you make the case for monthly subscriptions, knowing that your customers are used to paying one lump sum for their software? All of these are questions everyone in the industry is – or should be – thinking about," concludes Freygang.
Key message #5: Invest in unified commerce solutions and in new competencies across your technology, sales and marketing resources.
"It was due time that we, the Dynamics community, took a leap and adapted to the transformations in the market," says Peter Vach, Partner Experience Manager at LS Retail. "Many partners are scared of the change around us – but they shouldn't be. The Dynamics channel has an incredible ability to team up, and help each other succeed. I invite LS Retail partners, and any Dynamics Business Central partner who is concerned of what the future might bring, to come to us. We have been investing in Business Central, and we can help you gain the competencies you need to take the first steps in this new BC world. Join us - taking a leap is exciting, when you have a great team behind you, ready to support you."