Announcing the LS Retail Partner Awards winners 2023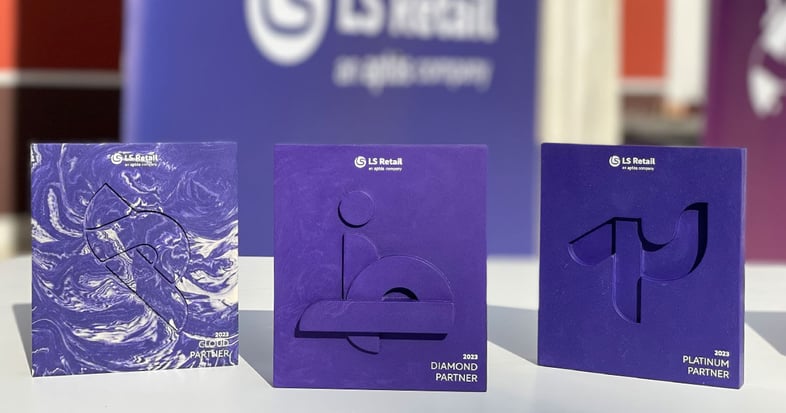 The winners of the LS Retail Partner Awards 2023 were announced at conneXion Americas in Houston on May 8, and at conneXion EMEA in Athens on May 23.
The LS Retail partner network is a key component of our global success. Our partners deliver, implement, and support the LS Retail software solutions to more than 6700 customers worldwide in 157 countries. To become an LS Retail partner, vendors must fulfill specific requirements, including passing official training in our software solutions.
Over the years, we have built the largest partner ecosystem in the Microsoft Dynamics community, with over 390 partner companies in 87 countries.
The LS Retail Partner Awards
The LS Retail Partner Awards acknowledge outstanding achievements from our diverse and global partner network in the past year. LS Retail partners qualify for Gold, Platinum, or Diamond level depending on their performance.
Announcing the top partners for 2023
In 2023, fifty-seven LS Retail partners qualified for Gold Partner level. Twenty-five partners reached Platinum Partner level.
Twenty-six partners reached our highest performance tier, Diamond Partner level. These are the companies that, in the past year, displayed high sales and overall exceptional business performance.
The LS Retail Diamond Partners for 2023 are:
Advania ehf., Iceland
ArcherPoint, LLC, United States of America
Bedege AB, Sweden
Bhatara Progress Co.,Ltd., Thailand
Braintree by Vox Telecom (Pty) Ltd., South Africa
Cactoz Pte. LTD., Singapore
Cepheo A/S, Denmark
CyanSYS Sdn. Bhd., Malaysia
DignetSoftware d.o.o.,

Croatia
Dynamics Link, Egypt
Dynamixware Ltd., Canada
Dynavics Ltd., United Kingdom
EBT Middle East LLC.
EDM, Saudi Arabia
Everest Retail Consulting, Romania
K3 Business Solutions B.V., Netherlands
Novasoft FZCO, United Arab Emirates
Optimus Business Transformation, United States of Americas

Performance Advantage Systems International, Philippines
RelateIT A/S, Denmark
Retail Software Associates, Philippines
TCOG, Belgium and Netherlands
Think Tribe Technologies LLC, United Arab Emirates
Trident Information Systems Pvt. Ltd., India
The Nav People/Vedbaek Ltd., United Kingdom
World POS Sdn Bhd, Malaysia
Cloud partner of the year
Over this past year, we have continued to see how partners are accelerating migration from on-premises software to SaaS, to help their customers in their digital transformation journey. The winner of this year's special award "Cloud partner of the year" is Performance Advantage Systems International (PASI), in the Philippines. PASI is the LS Retail partner with most customers using LS Retail solutions in the cloud, as a software as a service (SaaS). PASI embraced SaaS with remarkable dedication by training their staff, actively using the Cloud Acceleration Program and contributing to improving it.
"Congratulations to all our partner award winners. In the past year the number of Gold, Platinum and Diamond partners grew by more than 20%, with 26 partners reaching our Diamond level," says Peter Vach, Vice President Partner Operations at LS Retail. "This shows the enormous commitment of our fantastic partner community, and shows the extent of the opportunities we can close together in retail and hospitality around the globe. The transformation to SaaS is at high speed, and our partners are leading the way to help their customers to stay ahead of their competition."