Looking for a quick, reliable system
: the new system would have to be able to operate reliably over low bandwidth connections. After meetings with Davyn and a successful demonstration to the users, Pennywise decided to go for LS Nav, based on Microsoft Dynamics NAV. The implementation was completed in four months, and all eight stores started running on LS Nav in the same week.
A robust system for centralized management
Pennywise now has a robust retail system. All of the stores are connected with head office, facilitating centralized management. The company has reaped a number of benefits from the new system.
Quick transactions
After go-live, the team reviewed
transaction times
. The average transaction process time ranges from 14 seconds for the purchase of a single item up to 1 minute and 10 seconds for 10 items. This includes the time for the customer to pay by cash or debit card.
Price checkers
After the implementation of the system, Pennywise decided to improve customer service in the stores by installing price checkers that could be used by the public as well as employees. Davyn installed a total of 20 devices throughout the Pennywise stores and at their central ware­house. These devices easily connect to LS Nav and enable customers to quickly
check prices of items
within the store.
Pharmacy integration
Two years after installing LS Nav, Pennywise announced the decision to
add pharmacies
to three of their stores. Discussions with Davyn led them to select
LS Pharmacy
as the retail management solution. This meant that all functions could be delivered from a single sys­tem, and the Davyn team could manage the deployment locally. The stores are now live with the
fully integrated pharmacy system by LS Retail.
Customers can fill prescriptions at the pharmacy counter, where they are packaged and labelled with a barcode. The customer then brings the items to the cashier who scans the barcode to easily complete the transaction. "
LS Nav, Microsoft Dynamic NAV and PMS are very functional for our business and allow us to better serve our customers
," said Marina Ramdass, Chief IT Officer at Pennywise Cosmetics. "
The system has a range of function­alities that meet our needs, and with support from Davyn, we can also custom­ize it to fit our requirements
."
When Pennywise Cosmetics decided to switch from a fully manual system to a computerized one, LS Nav and Microsoft Dynamic NAV seemed like a perfect fit for the company. The transition was smooth and with the help of the team at Davyn it has been one of the best steps for¬ward that we have made. The program's capabilities made our recent opening of three pharmacies within our stores very easy. We are completely satisfied with our choice.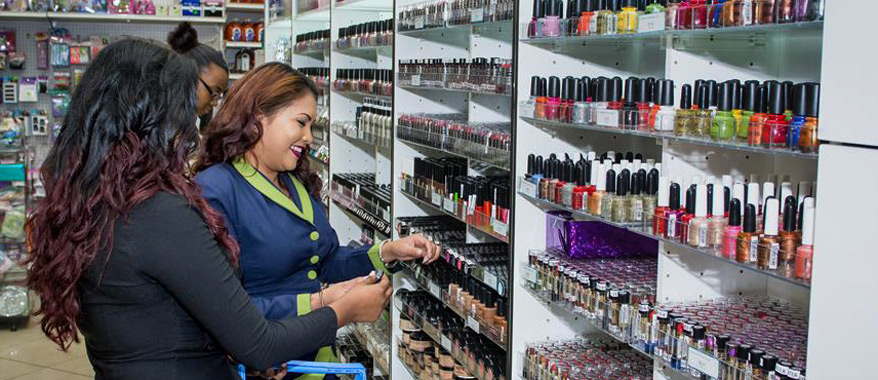 Implementation Partner
Davyn
Davyn is a Gold Certified Microsoft Partner that specializes in operational business solutions. Our goal is to make every customer's business better!
Connect
Founded in 1984, Pennywise Cosmetics has since grown. The company now runs eight stores, and has become the market leader in the health and beauty category in Trinidad and Tobago. Pennywise's large range of products and good value for money have contributed to making it the top shopping destination for Trinidadians to purchase health products and cosmetics. As the volume of transactions started growing, around the years 2011-2012, Pennywise decided to invest in a retail system. Unfortunately, the solution provider went out of business, and Pennywise began to experience some challenges with the software. Pennywise realized they needed a new system, an integrated retail platform that could help improve their operations. The company engaged Davyn, a leading local Microsoft and LS Retail partner, to implement a robust and stable retail solution.