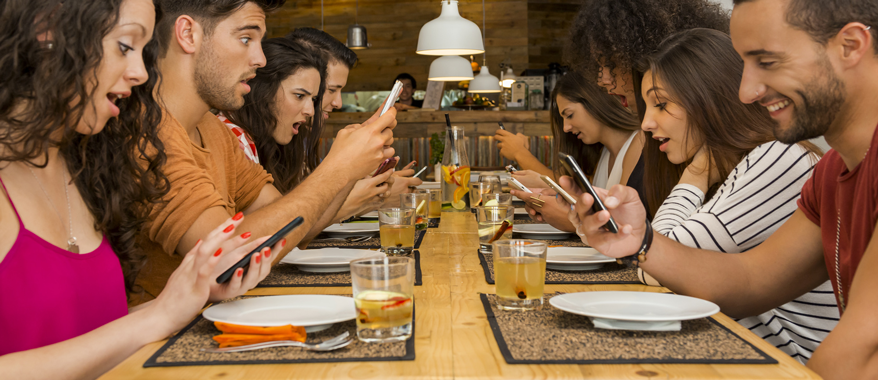 The typical restaurant goer is changing, and new generations of patrons are growing. Business Insider UK reports that 50 percent of 18- to 33-year-olds go out to eat once a week – which is more often than their parents. In the United States, spending on eating out recently overtook spending on groceries, for the first time in history. The younger generations of diners represent a great opportunity for hospitality businesses — but they also bring in new challenges for restaurateurs. How should you design your menu and use the right tools to attract a group of customers with distinctly new tastes and demands? We have researched the mysterious (and lucrative) new diners, and summarized their five main traits:
Quality above all
Guests today are much more knowledgeable about food than they were twenty years ago. They recognize quality and freshness of ingredients, and many of them favor eateries that offer high-quality, seasonal dishes. Quality is, however, not just about flavors or taste: many more attributes come into play. Sustainability is important, ranging from fair trade coffee and organic milk to locally grown food. According to a Populus survey run in the UK, half of 18-34 year olds declare they are more likely to eat at restaurants, cafés or canteens that offer locally sourced produce. To capture this opportunity, make sure that you include all relevant information which can help attract new diners in your menu. Is your meat local? Do you offer craft beer? Are there seasonal dishes? What are the ingredients? Spell it all out in the menu, clear and visible.
Healthy eating
Anyone familiar with the soaring sales of fitness trackers won't be surprised to know that there is a healthy food craze. Modern diners look for wholesome food, and often follow specific dietary regimens. From high-protein to low-carb to gluten-free to vegan diets, take a look at your customers: you are likely to find everything and its opposite. These people are not only clear on what they eat – they are also very well informed: the National Restaurant Association (NRA) reports that 70 percent of consumers order more healthful options at restaurants today than they did two years ago. Not only: more and more restaurant-goers use their smartphone or tablet to look up nutritional information on restaurant dishes. To cater for these new diners, include nutritional and allergy information for each dish in your menu. Speed tip – if you use an integrated management system you can update all your menus (online, in the app, at the self-service kiosks, at the POS) at once centrally. This is very convenient if you change your menu frequently, for example adding seasonal ingredients and special dishes. Do not lose track of profitability: make sure to include dishes in your menu which balance healthiness with convenience and low production costs.
Adventure time
New diners are all about experimenting: dining out should be an exciting culinary experience. According to a 2016 study by the National Restaurant Association, two out of three consumers eat a larger variety of ethnic cuisines now than they did five years ago, and seven out of ten consumers say that their favorite restaurant dishes offer flavors they can't easily duplicate at home. Global flavors are huge, but experimentation is, too: global mash-up dishes like kimchi burgers and tandoori pizza have become popular across the globe. Attract modern diners with bold, original recipes. Do not be afraid to give beloved classics a personal twist. Make sure you vary the menu from time to time to stay relevant.
Let's make it easy
People love convenience. That's one of the key reasons we eat out, after all: to enjoy a meal without having to do the shopping, cook, and wash the dishes afterwards. People also love tech, for the same reason: it makes doing a lot of stuff easier. According to an NRA study, three out of four smartphone users view restaurant menus on their phones at least a few times per year. Two out of five smartphone users would also be willing to use their phone to pay restaurant and bar tabs via app – if only this option were available. And a whopping 72 percent of diners say that tech in restaurant increases convenience. The lesson is pretty clear: use tech that helps people to easily find your restaurant, choose, order and pay. Create an online presence; it doesn't have to be a website – a Facebook page can work, too. Just make sure to include your menus in an easy-to-read format (please avoid PDFs with teeny tiny text), and remember that many potential guests will visit your page from their phone: mobile-friendly is the word. When it comes to implementing tech in the restaurant, make sure that the devices you add enhance the dining experience. Two out of five consumers, the NRA warns, are confused by technology in restaurants. It's important to strike the right balance between innovation and human touch.
Social trust
Food is one of the most popular topics on social media. From Twitter to Pinterest, people muse about what they will eat, post pictures of dishes that go from enticing to downright bizarre, review eateries and discuss recipes. According to a Brandwatch report, out of all brand mentions on Twitter, food and drink brands are mentioned the most, with a 32 percent share of the tweets. For comparison purposes, the second biggest industry is clothing and accessories — mentioned only in 17 percent of tweets. It's not just Twitter. There are over 100 million food-related boards on Pinterest. And more and more often, social media and online reviews are used to broadcast preferences and experiences when it comes to restaurants, influencing the choices of other potential guests. To capture social diners, you must have a strong official presence online. Consider this: 66 percent of the content that users pin on Pinterest comes from official brand websites. That's a great opportunity for restaurateurs. Use digital, mobile and social media promotions to make local customers aware of your name, and to direct them to your webpage. When it comes to online reviews, make sure you reply swiftly to negative comments; an unanswered complaint sounds like an admission of guilt to many readers. Finally, you can leverage modern diners' love for sharing by creating instagrammable plates. From cappuccino foam art to making a banana in a cocktail glass look like a dolphin, you just need to unleash your inner artist to win free social media mentions. The spending habits of 18 to 34-years old are expected to peak in the coming years, as Business Insider UK reports. If you offer a restaurant experience that focuses on local foods, healthy options and an omni-channel presence, you will have an edge when it comes to capturing these food-loving, experience-sharing, spend-happy customers. [hubspot id="28"]