Another thunderstorm is brewing outside the expo theater in Barcelona, but no-one cares. Convergence 2014 Europe is about to start. All eyes are focused on Kirill Tatarinov, executive vice president, Microsoft Business Solutions Dynamics. He talks about the uniqueness of Microsoft Cloud for businesses. That's our cue to feel even more excited since in just a few minutes, in the expo area, we will showcase our Cloud solutions for Retail as well as our other leading software solutions for retail and hospitality businesses worldwide. Apparently we are not alone in our excitement – the doors have just opened and our stand is already buzzing with various professionals wanting to see and hear more about retail software, POS systems, mobile loyalty apps, restaurant management systems, and much more. And on it goes…
Right up until the very last minute on Thursday 6th November, a constant stream of retailers, hospitality providers, LS Retail partners, Microsoft representatives, analysts and third party vendors keeps on visiting our stand, making Convergence Europe 2014 a true success for LS Retail!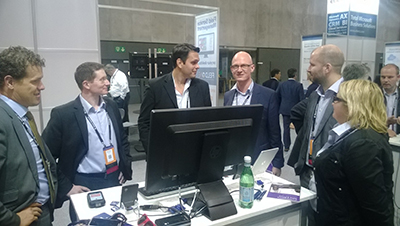 "With more than 100 visitors at our stand looking into LS Nav, LS Omni and LS First, it is clear that retail, hospitality and forecourt solutions in the Microsoft Dynamics world is spelled 'LS Retail'" says Carsten Wulff, LS Retail regional director over Europe. Stefan Thor Stefansson, product director, adds: "Convergence Europe was truly an excellent event. So many were interested in LS First for hospitality and forecourt. A big percentage were prospects that visited us last year, but were now ready and willing to take the next step to optimize their restaurants' or gas stations' operations. We also had many visitors from the Gulf area, which was a great surprise!" Eloise Freygang, LS Retail CMO, observed: "We literally saw jaw-dropping responses to our demos on how LS Retail software solutions can help retailers make shopping a superior experience, no matter if in-store, online, or through apps. This can't but give us strength and reaffirmation that we are on the right path".
Truly getting to know customers
In tune with Microsoft, we showcased proofs of how retailers, restaurants and forecourt retailers can grow and succeed by connecting in new ways with their customers, in an easier, simpler and faster way. As an example, Sam Thompson, IT Manager at Gieves & Hawkes, Retail Fashion chain, talked about how G&H, with its 120 outlets in the United Kingdom and the Republic of Ireland, and over 100 more outlets worldwide run their business effectively with one integrated solution. "With Microsoft Dynamics, LS Retail, K3 and Microsoft CRM, Gieves & Hawkes has better, faster access to information across the business— information that's helping the company control pricing, promotions, and stock. It's great. Rich data is now available to store staff at the point of sale, giving them the tools to provide better customer service," says Thompson.
If that wasn't enough, the same week in Barcelona, LS Retail was represented also in two other side events organized by two of our Spanish partners, Aitana and Iris-Ekamat. "Such events are just an example of the energy and dynamics of the LS Retail community that our
customers, partners and we form together" said Sigrun Dora Saevinsdottir, LS Retail Chief Partner Operations Officer.
It was also great to see how the members of our community are already looking forward to conneXion 2015, LS Retail's conference and expo, which will take place in Dubai on April 14-17, 2015." Sigrun Dora Saevinsdottir continued: "Various companies have reserved their spot as exhibitors or sponsors there. And many retailers and restaurateurs have already expressed interest in joining our conference. So we are more than confident that conneXion 2015 will turn out to be yet another fun and inspiring event - and now in Dubai!"