Big changes in the retail industry
Although traditional retail stores show no signs of decline or demise, the growth in number and types of online shops has brought about pressures. "
The IT market is no exception
," says Kaire Koik, Board Member of Klick Eesti. "
Sale of laptops, once our main product, has decreased by one fifth in the last few years, while smartphones have become our premium sale item. Our product mix is changing, as we are seeing increased turnover from alternative products such as memory cards, battery banks, headphones. With people becoming more health-conscious, smartwatches, sports watches and heart rate monitors are in upward trend
."
Staff matters
In the competition between physical and e-commerce stores, the differentiating factor for brick-and-mortar stores is customer service. Klick's goal is to offer a complete service, from recommending and selling a product to post-sale maintenance and warranty services. For this purpose, employees are constantly trained not just in sales and customer service, but also in psychology. To help customer sales specialists perform their best, Klick has worked to create an engaging work environment. "
We consider it to be important for a sales person to be willing, happy and engaged in his or her work. Product competence comes with time, but eagerness to work must be there from the start
," says Koik.
New LS Nav: from good to better
Klick Eesti employs 135 persons who use LS Nav daily in their work. The company was already using LS Nav, but decided to update the system in order to automate processes, make the user interface more comfortable and increase efficiency for customers. The choice fell, automatically, on the latest version of LS Nav. "
We have been using LS Nav for a long time and integrated all other necessary programs into LS Nav over the time. By today, most of these programs are already a part of LS Nav standard version. Even though we were satisfied with our old Nav, we still needed a so-to-speak 'second damper for our Ferrari' to make things run perfectly
," Kaire Koik describes. "
Our goal was to implement a universal solution with high potential that would be as simple as possible, require only minor manual work and could be used easily by anyone. LS Nav is comfortable, and easily linked to other software.
"
An easy decision and a smooth implementation
The company discussed the idea of a new implementation for almost two years. Once the decision was taken, execution took 6-7 months. As the business of Klick Eesti is quite seasonal, December (and Christmas time in particular) being peak time, the go
live
could not be left to the end or beginning of the year. So, the whole company, webshop included, moved to the new LS Nav in October 2015. The transition was easy, Koik reports. By switchover day the employees had already had a comprehensive training and received instruction materials. As the computer displays were relatively unchanged for the cashiers, the change was very smooth, and October 1st turned out to be a long but successful business day. Although Klick is still working on small tweaks to improve the purchase, warehouse and cash register modules, the company can trade and manage its whole business easily.
There is never a perfect time for software switchover
"
The investment decision we made was necessary: we were wasting too much time with our old software and hardware. To be honest, though, there is never a perfect time for a software update – the time just must be made,
" admits Koik. For a successful implementation, Koik advises putting together a committed in-house team that takes to the software switchover wholeheartedly. At least one management board member should also be involved, as that enables to address the investment from several aspects. A lot of time is often spent presenting, defending and testing ideas but one should not get trapped in old dogmas: it's a good idea to listen to the IT staff, as they are there to assist trading, react fast and monitor bottlenecks.
Great benefits, in-store and at head office
New insights into the business
The new LS Nav has given Klick much clearer insight into the business. Now Klick can plan purchases and campaigns timely, and track their success. The new LS Nav enables Klick to create real-time statistics for shop employees, so that they can see their results in real time and be motivated to increase sales.
Better customer service
Klick is now able to serve customers better and faster than before. Permanent customers can now receive purchase receipts via e-mail, a format that is easier to maintain than a paper receipt. All permanent customers are also able to view their purchase history via their accounts.
Easier accounting
Before the switchover, Koik could only dream of taking care of the whole company payroll in just half an hour a month. With LS Nav, Klick can not only do that, but also easily calculate premiums, holiday pay and extras. Supplier invoices are automatically transferred into the system, reducing the amount of work hours and possible mistakes. "
The analytics module is very important for us as a trading company
," says Koik.
The employees like the possibility to design the display as they feel comfortable when they log into the system; related products can also be viewed and employees can exchange messages among themselves. We believe that the new system will increase our turnover at least by one tenth!
It is marvelous to work with numbers when there are good analytical modules.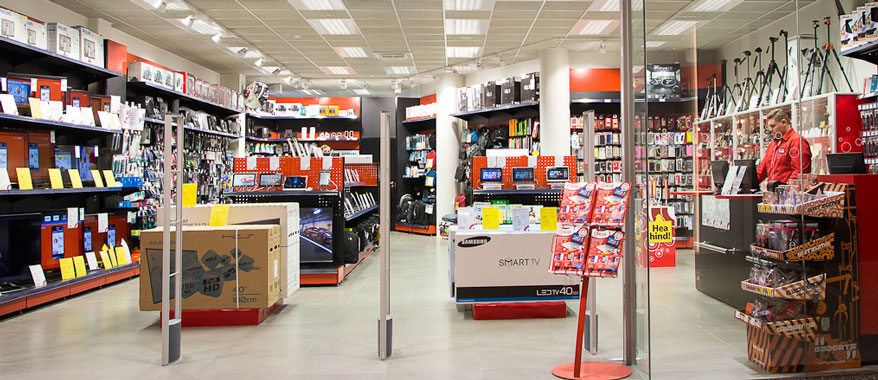 With 23 shops across Estonia, Klick Eesti is the leading retailer of electronics and digital goods in the country. Many of the stores are located near grocery stores in shopping centers, a factor which has contributed to increasing the popularity and customer base of Klick year after year. Klick offers a wide selection of electronics; they are the country leader when it comes to laptops, but their product range extends to cameras, TVs, sound equipment and high-end toys such as drones and robots.